Tricia Kelly
Bio
Tricia Kelly is the author of many LAW OF ATTRACTION articles geared toward the teen parent relationships.
"IS YOUR FAMILY VIBRATING ON THE RIGHT FREQUENCY TO MANIFEST MONEY?"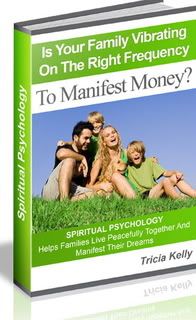 My new e-book changes the way you raise your kids. Family arguments put up your 'stop signs' You CANNOT MANIFEST MONEY in this state and that's why you need to understand every aspect of the Law of Attraction and why basic Spiritual Psychology works to bring balanceback into your home. http://www.triciakelly.net/manifestingmoneyhtml
"SPIRIT BOY - an earth spy" is a fictional novel that revolves around the 'Law of Attraction' principles in a way that is uplifting and allows people to see the energy in action.
Some Amazing Endorsement have been coming Spirit boy's way.