Natural-looking hair color at home - My cheap and easy secret
BlogHer Original Post
I grew up as a blonde. I was naturally blonde as a child, and when I reached high school, I started getting highlights, and when I finally decided in college that I no longer wanted to be blonde, I made the mistake of purchasing a permanent brunette dye at the drugstore (I'm sure the cashier was laughing on the inside as I paid).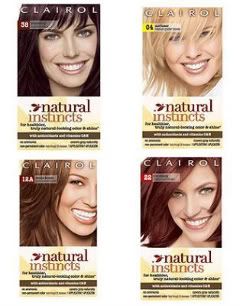 I went home, used it, and promptly discovered it had turned my hair a putrid shade of green (cue hyperventilation and severe 18-year-old overreaction here). Six hours in a salon and a couple hundred dollars (which, to a college student, might as well have been a million) later, my hair was passable, but I didn't venture into the at-home hair color aisle for a few years.
One day several years ago, I noticed that my roots were showing (because I'd gone back to getting highlights again) -- something I'm not okay with, no matter how trendy Hollywood says it is. I also noticed that I had about $30 in my checking account for the next two weeks, meaning there was no way I could get any professional help. Recalling the disaster with the permanent dye, I decided to try something more temporary.
Clairol Natural Instincts Hair Color has remained on my must-have list ever since, and I've tried a bunch of different shades. When I'm trying to blend roots with highlights, the lighter colors like Sunflower/Medium Golden Blonde do the trick and buy me a few extra weeks. And, when I've let the highlights grow out, but want a punch of color (because this mousy brown crap does not work for me), I've used the shades like Navajo Bronze/Light Caramel Brown, which adds a little bit of gold and a whole lot of shimmer.
I'm a big fan of natural looking color (although I did try the Cinnaberry/Medium Auburn Brown once, and it was rather cool and red -- just not me), and I love that almost all the colors I've tried make my hair look like it just happens to be that fabulous color. However, if you want to try out something a little funkier, they have those, too, and since it's temporary, you're not as likely to still be crying about it a month later if you don't like it. You still get the bonus of their yummy conditioner for a month, which is pretty much worth it whether you like the color or not.
Keep in mind that, although it's temporary, using a really dark color on really light hair can have more permanent effects. Use their online tool for finding your shade -- if you stay within their guidelines, I really don't think you can go too wrong.
Oh, and what about price, you ask? It's listed online for $9.99 at drugstore.com, but it's always going on sale at my local Walgreens and CVS, and I never pay over $7.99. Ever.
Photo courtesy of drugstore.com
Related Posts
More Like This
Recent Posts
by kgseymour
Our bloggers include LISTERINE Antiseptic in their regular oral health routine. See why and get a chance to win $100.
Read more
Mary Kay® Reviews & Giveaways
Bloggers recreate the Merry Berry, Festive Flirt, Playful Party Girl and Holiday Romance looks using Mary Kay® products. What is your look for this holiday season?