New feature starting next Tuesday @ Goings on in Texas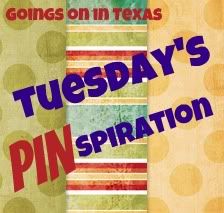 So, I've decided that since I {heart} Pinterest so much, I might as well incorporate it into a fun little series on this here 'ole blog. I have some bloggy friends who are planning weddings, having babies and well, just plain livin' life, who might just enjoy this. And for those of you who love to "PIN" things but never think you'll do any of the actual things you "PIN" well, this just might give you that little PINspriration you need. :)


If you are new to the world of Pinterest, let me give you DL, the skinny, the 411. ;) Imagine the old school cork board....


Image Source
Now imagine, cutting out recipes or tearing out a fab new outfit or beauty item and pinning it to your cork board.
Image Source
Pinterest is your virtual cork board. And what's even cooler, you can have multiple cork boards! One for Sweets, one for Non-sweets, one for baby stuff, one for wedding stuff, one for Christmas, one for PINK things and on and on and on. Too cool, huh??
Here are some of my PIN boards...




So, what I'm thinking is each week, I'll have a PINspiration theme. I need some feedback from the bloggy world. Would it be fun for it to be a linky party? Would you want to link up your PINspiration for that week's theme (meaning you get to blog about whats PINspiring you)? Or would you rather it be a solo event and you ohhh and ahhh in the comments? I'd love to know your thoughts! :)


I, personally, would want to see your PINspiration posts.



Recent Posts
by pnkheelspnktrk
Our bloggers took on painting projects of their own with the help of Glidden Paint. See how easy home painting projects can be plus get a chance to win $100!
Read more
Most Popular
on Work/Life
Recent Comments
on Work/Life