BlogHer Business '07 Speakers
Wondering who's who on the BlogHer Business panels? Eager to put a face with the names? You can now read (and see) all about our speakers below, and click on their photos to be connected with their blogs and businesses.
Or simply peruse the conference schedule to view our speakers by session and get a feel for the event's many highlights:
Day One
Day Two
Panel: Should You Blog?
Remi Adams, Homestead Technologies
Remi Adams, director of public relations for Homestead Technologies, has over ten years of strategic communications experience, servicing clients in the areas of consumer products, technology and entertainment. Remi's agency and in-house experience covers a diverse range of well-known and emerging consumer and lifestyle brands, and her passion has been to create innovative and attention-worthy communications programs that help her clients achieve their business objectives. Prior to joining Homestead, Remi operated Mastermind Public Relations, a boutique consultancy that represented clients such as Pearl Vodka and retail giant, Mervyn's. In addition, Mrs. Adams served as a contract Vice President at Porter Novelli, managing consumer clients for the San Francisco office; and as the Director of Public Relations for Music Buddha, a company that specialized in intelligent, personalized music recommendations. She has also worked as the personal publicist for the recording artist, Prince.

Remi earned her Bachelor of Arts Degree in English from the University of California, Santa Barbara and is a member of several professional public relations organizations. She served as a member of the board of directors for the California Culinary Academy Educational Foundation for over five years and resides in the San Francisco Bay Area with her husband and two young sons.
Panel: How to Measure Social Media ROI
Daniela Barbosa is a Solutions Architect with the Dow Jones Enterprise Media Group based in San Francisco. She works with large corporations in deploying information strategies including main stream media and social media through various parts of the enterprise and has worked with many Fortune 500 clients in the High Tech, Consumer Products, Consulting, Telecommunications, Pharmaceutical and Financial industries. An avid social media fan and producer on the topic of information delivery in the enterprise, she continually 'eats her own dog food' by using social media tools and processes to engage with customers and prospects. She also works closely with the Dow Jones Factiva Insight Media Measurement specialists to ensure that customers are receiving the most amount of value from their monitoring solutions.

Daniela recently spearheaded the Factiva Social Media Roundtable in Silicon Valley, California and will be sharing some real use-case ROI studies based on that event that was coordinated through the use of social media- for the purpose of gathering information on what companies need to monitor and measure. Daniela has a Masters of Library and Information Science (MLIS) and an undergraduate in Women and Labor studies from Rutgers University.
Panel: How to Build Your Audience; Forget "the" A-List, Find Yours
For much of her career, Elise Bauer has been advising technology companies on their marketing and business strategies. Her clients over the last twenty years have included Apple, Symantec, Warner Music Group, Seagate, Technorati, and a host of technology start-up companies. A few years ago Elise started Simply Recipes, a food and cooking blog, as a place to keep a record of what she was learning, cooking with her parents. Over the last 4 years Simply Recipes has grown to reach over 40,000 visitors a day, and produces more than 3 million page views per month. According to FeedBurner, there are over 200,000 subscribers to Simply Recipe's RSS feed. Elise was recently named by the Wall Street Journal as one of the "hidden influencers" of the web.

Elise writes to several other blogs, most notably Learning Movable Type in which she has written over a hundred tutorials for the Movable Type blog publishing platform. She is also a contributing food editor for BlogHer. Elise received her undergraduate and M.B.A. degrees from Stanford University.
Panel: How to Keep out of Real Trouble
Megan Belcher, Blackwell Sanders Peper Martin, LLP
As a lawyer in Blackwell Sanders' Labor & Employment department, Megan concentrates her practice on employment litigation, commercial litigation, and labor matters. Megan represents clients in all phases of complex employment and commercial disputes involving claims of discrimination, harassment, wrongful termination, breach of contract, and violations of restrictive covenants. She represents private employers in state and federal court, as well as in administrative actions, arbitrations, and other alternative dispute resolution proceedings. She also counsels employers and corporations on a variety of employment-related and business strategy issues.

Megan is a blogger who has spoken numerous times on the legal implications of blogging for businesses and individuals alike. In addition, she recently published an article in Ingram's magazine analyzing the legal issues of employee blogging for business.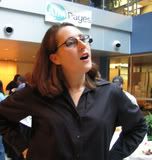 Panel: Day Two Opening Keynote
Stephanie Bergman is Lead Product Manager for Community Products at AOL, where she focuses on creating new, open, useful and fun products for the Internet community to enjoy. With 15 years of experience in the industry, Stephanie has also served as a Product Manager on Yahoo! Messenger and Chat, and Community Manager for Pseudo.com.

A long time computer and console gamer, Stephanie has contributed numerous articles to various websites, including GameGirlz, loonygames (as Associate Editor) and GameSpy. She was a contributor to the book "From Barbie to Mortal Kombat" by the MIT Press, and, at Pseudo, created and co-hosted the first and only interactive television show "by women gamers, for women gamers."

"StephanieBamBam" blogs at http://journals.aol.com/StephanieBamBam/BamBam.
Panel: Business Blog Case Studies; Should You Blog?
Toby Bloomberg, Bloomberg Marketing
"Business blog evangelist." That's what people call Toby Bloomberg. As president of Bloomberg Marketing, a strategic marketing and social media consultancy, Toby puts her passion to work helping organizations navigate the blogosphere by developing social media strategies that support their business outcomes. Toby's background includes over 15-years working in traditional and new media marketing. In addition, she is adjunct professor at Goizueta School of Business at Emory University. Although she is a Yankee from Boston she now calls Atlanta home with Westie pup Max who sometimes finds his way into the blogopshere via Toby's blog - Diva Marketing Blog.
Panel: Media Case Study
Elana considers herself a "reformed journalist." As a graduate of the University of Missouri School of Journalism, and someone who spent the first five years of her career as a television reporter, it has taken a long time for Elana to shake her journalist persona. These days she is happy to consider herself a Blogher, Blogomist – or a social media writer.

After turning in her microphone , Elana spent the next 25 years writing for business: speeches, presentations, brochures, videos, direct marketing packages —you name it, she's written it. Along the way, she has received numerous awards including recognition from the New York Film and Television Festival and the Direct Marketing Association.

Working on the inside has given Elana an opportunity to observe the politics, policies and performance of corporate America. While she has always taken her work very seriously, she has, at times, been amused and quite frankly baffled by the inner workings of business.

Today, Elana continues to write and consult in both the corporate and nonprofit sectors.

She is the author of the "Web Wisdom" portion of the Marketing Workbook for Nonprofit Organizations, published by the Amherst H. Wilder Foundation.

Elana has been blogging about business culture since 2004. Prior to that, she had a weekly column about business culture in a Minneapolis newspaper.
Panel: How to Build Your Audience
Rachel Clarke works as a Digital Strategist with the advertising agency JWT New York. Working with clients such as Sunsilk, Domino's, Kleenex, Huggies and Stride Gum, she provides advice and guidance in developing integrated transmedia campaigns with a focus on Social Aspects.

Prior to this she worked with Diageo, the world's leading premium drinks company, in multiple roles. Over the last few years, she's managed the development of brand websites for the company, including Captain Morgan, Guinness, Smirnoff and Baileys.

She blogs at http://blog.bibrik.com and http://behindthebuzz.com
Panel: The Press Release Must Die
Julie Crabill, SHIFT Communications
Julie Crabill is a senior account manager and the manager of industry relations at SHIFT Communications in San Francisco. Julie was part of the team at SHIFT to spearhead answering the call for a social media press release and works closely with the team at SHIFT on PR 2.0 initiatives. Julie leads SHIFT's Lifestyle Technology Practice on the West Coast and, prior to joining SHIFT, worked at both Edelman and Weber Shandwick. Julie earned a bachelor's degree in public relations from San Jose State University and has held various positions on the board of the Silicon Valley Chapter of the Public Relations Society of America.
Panel: Should You Blog?

Roxanne Darling, Bare Feet Studios
Roxanne is co-owner of Bare Feet Studios, which offers "Internet Literacy for Businesses" who want to understand and implement blogging and online strategy. She literally got her feet wet with videoblogging back in May 2005 and in February 2006 she launched "Beach Walks with Rox," a daily show from Hawaii. She is the winner of 3 Vloggie Awards and presents a new episode every single day with viewers in over 70 countries. Roxanne mixes intelligence, warm-heartedness, geekiness, and business savvy with extraordinary energy to take extreme advantage of the internet. She's an insightful coach, so come learn how your business can make sense of interactive media.
Panel: How to Embrace Social Media Culture
Nicki Dugan, senior director of corporate communications at Yahoo!, is editor of the company's official corporate blog, Yodel Anecdotal. It launched in August 2006 as "Yet another self-serving corporate blog" with the mission of providing insights into the company, its people, its culture, and the things Yahoos think about in the shower. The blog covers emerging trends, behind-the-scenes commentary, employee profiles, user stories, guest opinions, and includes video, podcasts and photo essays. All this while attempting to faithfully avoid regurgitation of product press releases. Contributing voices range from CEO to summer interns and Yodel Anecdotal has been lauded for having the cahones to accept comments of all flavors.

Prior to joining Yahoo! in 2000, Nicki represented consumer internet brands such as Yahoo!, Mapquest and Reel.com at Niehaus Ryan Wong, the tech-only agency that presided over the halcyon days of the Internet boom (and may it rest in peace). She also served as editorial director at Sheila Donnelly & Associates of Honolulu and as senior editor at Travel Holiday magazine. Nicki received a B.A. in English from Franklin & Marshall College.
Panel: I Have Enough Trouble With My First Life!
Barb Dybwad is a Producer at Weblogs, Inc., an AOL company. She oversees the Technorati #1 blog Engadget, popular gaming blog Joystiq, and their niche spinoffs. Previously she was senior editor at Engadget and editor-in-chief of the Social Software Weblog.

Before becoming a professional blogger, Barb owned and operated her own web development business, Live Mind Design. LMD designed and developed sites for academia and small businesses in PHP/MySQL and ColdFusion, from back end to front. Current interests include participatory culture, gaming, social computing, web 2.0, MMORPGs, knowledge management, social media, remix technologies, mobile technologies, and the placeless office.
Panel: Closing Keynote
Deborah I. Fine, iVillage Properties
Deborah Fine joined NBC Universal in July 2006 as President, iVillage Properties, where she leads the world's largest online community for women. With 16 million members, the iVillage brand is comprised of iVillage.com, iVillage Parenting Network, iVillage Total Health, Gardenweb.com, Astrology.com, and Gurl.com.

Previously, Fine was the Chief Executive Officer of Victoria's Secret PINK. She led PINK into a diverse lifestyle brand achieving more than $500 million in sales and developed the brand's multi-channel web strategy. Fine was the Founder and President of Avon Future from 2001-2005, where she created and launched the Mark business, a global cosmetic and accessory brand designed to attract the next generation of Avon buyers and sellers. In the first 18 months of operation, Mark achieved over $150 million in retail sales under Fine's leadership. From brand development and customer intimacy to retail and direct sales, she leveraged the web to help redefine the Avon model for Mark.

Prior to joining Avon, Fine spent 23 years in the media business, holding executive positions with Condé Nast Publications, including serving as Vice President and Publisher of Glamour and Publisher of Bride's. She has also served as Director of Fashion and Retail Advertising for Vanity Fair, and held management positions with The New York Times Company and News Corporation.

Fine has been awarded the American Legacy Foundation Corporate Leadership Award and was named one of Advertising Age's "Women to Watch," a "Top Player" by Media Industry Newsletter and a "Woman of Distinction for Corporate Leadership" by the Girl Scouts of America. She is a member of the Board of Directors of the Juvenile Diabetes Research Foundation and of the Distinguished Speaker Series at Harvard, Yale and Wharton. Fine is a Summa Cum Laude Graduate of the University of Massachusetts at Amherst and resides in the New York area with her husband and two children.
Panel: How to Build Your Audience
Vanessa Fox is product manager for Google Webmaster Central, which provides tools and information to help site owners understand their sites in the context of the Google index and with search engine optimization. She also manages the Google webmastral blog and the Google webmaster discussion forums. She regularly participates in the conversation about search in the blogosphere and forums on the web. She speaks at search-related conferences throughout the year and is an avid Buffy The Vampire Slayer fan.
Panel: The Press Release Must Die
Bambi Francisco is a senior columnist/correspondent at Dow Jones MarketWatch. She covers Internet trends and investments across all mediums - online, television, print and radio. With a newsletter subscriber base of more than 400,000 at the peak, Francisco is one of the most widely followed journalists covering the Internet. Besides her biweekly commentaries, Francisco does daily video interviews for "The Bambi Francisco Files," which can be seen on the Dow Jones Business Channel. Prior to her columnist role, Francisco was the morning business anchor for KPIX, a CBS affiliate in San Francisco. Francisco was also a founding producer at CNNfn, where she created, launched and produced three business programs.
Panel: Small Business Case Study
Shirley Frazier, Sweet Survival
Shirley George Frazier is recognized worldwide as one of the foremost experts on marketing strategies for business owners who work independently. She maintains four blogs, including ShirleySpeaks.com, and is the owner of Sweet Survival®, a consulting firm specializing in business and marketing support. Her clients include Macy's, Barnes & Noble, and thousands of self-employed professionals.

Shirley is author of two best-selling gift industry books and a forthcoming book, Marketing Strategies for Home-Based Businesses. She's a professional speaker who conducts seminars at conferences nationwide, shares business success tips at www.SoloBusinessMarketing.com, and appears on CNBC, Fox Channel 5, and The Food Network.
Panel: An RFP for the Measurement Industry
Amy Gahran, creator of the popular weblogs Contentious.com and RightConversation.com, is a conversational media consultant, content
strategist, media analyst, and freelance writer/editor. She helps organizations and professionals raise a clear, strong voice in the public conversation -- especially through resourceful use of online media. She also edits the Poynter Institute's group weblog E-Media
Tidbits and works with citizen journalists.
Panel: Small Business Case Study; Forget "the" A-List, Find Yours
Susan Getgood, Getgood Marketing
Susan Getgood was among the pioneers in introducing children and parents to the Internet as an expert in online safety and General Manager of Cyber Patrol, one of the world's first Internet filters. Her 20+ years in the computer software industry included leading a global marketing team as Senior Vice President of Marketing for SurfControl, with offices in the U.S., England, Australia and seven other countries. A results-oriented strategic marketer, Susan knows how to build brands using technology, policy and good old fashioned high-quality products. In 2004, she founded GetGood Strategic Marketing Inc. to help bring blogs into the mix as an indispensable marketing tool. Today, her firm helps public and private companies and organizations build brands and drive revenue with integrated marketing and communications strategies. Her own blog is Marketing Roadmaps, which is part of the Corante Network.
Panel: Opening Keynote
Jeanette Gibson, Cisco Systems, Inc.
With 14 years of experience in corporate communications and 8 years of experience at Cisco Systems, Jeanette Gibson leads Cisco's New Media & Operations group. In this role, she is responsible for extending Cisco's leadership and innovation with new media and overseeing the vision and direction of Cisco's award winning online newsroom, News@Cisco.

In her role as head of new media strategy, Gibson is responsible for developing and communicating the direction of Cisco's corporate blogging and podcasting initiatives and driving its web strategy for communications websites, News@Cisco and the Investor Relations and Analyst Relations Websites. In addition, Gibson manages operations for corporate communications involving strategy and planning, budget management and training programs.

Prior to working with the News@Cisco team, Gibson ran the Corporate Technology PR team at Cisco where she was responsible for promoting Cisco's technology vision and strategy and securing top-tier business press for Cisco and its senior executive team.

Prior to joining Cisco in 1998, Gibson worked for a start-up, PointCast, which pioneered push technology for delivering news broadcasts directly to users' desktops. Gibson helped launch the company in 1995 and managed its external reputation via media and analyst relations activity. Prior to PointCast, Gibson held various account management positions at leading public relations firms, Miller Communications (now Weber Shandwick) and Copithorne & Bellows (now Porter Novelli).

Gibson holds a B.A. in Communications from the University of California at Santa Barbara.
Panel: I Have Enough Trouble With My First Life!
Anastasia Goodstein is an award-winning blogger and often-quoted expert on American tweens, teens and early twentysomethings. Ypulse.com reaches a highly influential audience of agency, brand and media executives as well as social marketers trying to reach youth. The blog has been featured in several leading publications including USA Today, BusinessWeek, Forbes and Fast Company.

Mrs. Goodstein was one of the first graduates of the Medill School of Journalism's new media program at Northwestern University where she earned an MSJ in 1999.

Goodstein just completed a book about teens and technology called Totally Wired, which will be published by St. Martin's Press in March of 2007.
Panel: I Have Enough Trouble With My First Life!
Aedhmar Hynes, Text 100 International
Based in New York City, Aedhmar Hynes is the Chief Executive Officer of Text 100 International, one of the world's largest independent public relations firms that serves companies that use technology for competitive advantage. Aedhmar has been CEO since 2000 and during that time, Text 100 has grown its position as a leader in global communications and is a thought partner for almost 300 clients across the world. She oversees annual revenues of more than $50m, a staff of over 500, and 30 offices spanning the world.

Under Aedhmar's leadership, Text 100 has been at the heart of tremendous change in the PR industry. The company truly broke new ground by leading the exploration of virtual worlds for PR purposes when it became the first global PR firm to establish a presence in Second Life in August 2006. Text 100 has also driven client and industry discussions through the launch of two blogs – Monday Morning, Aedhmar's blog about technology, public relations and the world, and HYPERtext, Text 100's blog on technology and communications – and offerings that include peer media educational workshops, crisis counsel and policy counsel.
Panel: How to Embrace the Social Media Culture
Lynne D. Johnson, FastCompany.com
Lynne D. Johnson is the senior editor of FastCompany.com. In this capacity, she oversees editorial and community functionality of the site. Prior to joining Fast Company, Lynne was the General Manager, New Media for Vibe and Spin magazines, with responsibility for management of day-to-day marketing, editorial, production, business development, and sales operations for the magazines' web and mobile properties. She also formerly served as a reporter and editor of BlackPlanet.com, the leading ethnic social networking site, as well as associate editor of Digital New York, a magazine and online destination for creatives working in digital media; among various other writing and editing positions in both print and online media.

Lynne holds an MBA in Media Management from the Metropolitan College of New York, and advanced certificate in Multicultural Studies from the College of Mount Saint Vincent, and a BA in Journalism from the State University of New York College at New Paltz.
Panel: How to Keep out of Real Trouble
Nina L. Kaufman, Paltrowitz & Kaufman LLP
Nina Kaufman is a rare combination: a small business attorney and a standup comedienne. Through her humor, wisdom, and legal acumen, she helps entrepreneurs and small businesses protect their companies and develop a solid legal foundation for growth and success.

She is a co-founder of Paltrowitz & Kaufman LLP, a boutique law firm that acts as outsourced in-house counsel to entrepreneurs and small businesses. She is also the founder and President of Wise Counsel Press LLC, which publishes articles, booklet guides, and podcasts on small business legal issues to help entrepreneurs make smart decisions, protect their businesses and save money.
Panel: The Press Release Must Die
Erin spent eight years bringing you live, breaking news on-the-air at Los Angeles news institution KFWB and other broadcasting outlets.
She has six Golden Mike Awards stashed in the closet from those KFWB Los Angeles days including "Best Investigative Reporting: Port in Peril," the piece that touched off dozens of local, state and federal hearings on our nation's port security. (Not to mention a swarm of similar stories and investigations by news networks across the nation.)

Erin has spent the past four years making her own headlines on the motherhood front, with the birth of a son in 2003 and a daughter in 2005. But never without critiquing the evening news and second-guessing an editor's choice of morning headlines.

She chronicles the afterlife of big city reporter turned Mommy at her personal blog where she is known as the "Queen of Spain." Erin also writes politics from the Mom perspective at BlogHer and the Huffington Post.
Panel: An RFP for the Measurement Industry
Based in New York, Elizabeth is a Senior Analyst and Account Supervisor within Edelman's Interactive Solutions practice. Elizabeth leads Edelman's internal and industry-partnered conversation research efforts focused on leveraging key audience insights from consumer conversations occurring within online communities such as blogs and message boards. Elizabeth currently oversees strategic planning using online research for consumer, consumer technology and healthcare clients across Edelman's US offices.

Elizabeth previously worked within Ruder Finn's Technology Practice in New York and her interactive experience began in San Francisco and Silicon Valley, assisting the launches of websites during the dotcom boom.

Elizabeth has a B.B.A. in Marketing and Operations & Information Technology from the College of William and Mary.
Panel: Media Case Study; Closing Session: Social Media Ethos
Caroline Little, Washingtonpost.Newsweek Interactive
Caroline H. Little is chief executive officer and publisher of Washingtonpost.Newsweek Interactive (WPNI), which operates washingtonpost.com, newsweek.com, Slate and Budget Travel Online.

Little joined WPNI in 1997 as general counsel and went on to serve as chief operating officer and president. She became CEO and publisher in January 2004. Little serves as Chair of the Advisory Board for The Posse Foundation, Inc D.C. branch. She also serves as Vice Chair of the Online Publishers Association and on the Board of the American Press Institute. Little is a trustee of Grinnell College and of the Woolly Mammoth Theatre Company.

Prior to joining WPNI, Little was deputy general counsel at U.S. News & World Report, The Atlantic Monthly and Fast Company. She also served as an associate at the law firm of Arnold & Porter.

Little received a BA from Wesleyan University and a J.D. from New York University School of Law, where she graduated with honors.
Panel: Forget "the" A-List, Find Yours
Michelle Madhok is Founder of www.SheFinds.com and www.SheFindsMom.com, online publications distributed via e-mail and blogs that help busy women everywhere shop the web for the latest beauty and style finds.

A widely regarded expert in online shopping, Michelle is also the style columnist for and a contributing editor for MSN Shopping, Cotton Incorporated and the American Heart Association. Her style and shopping tips have been featured in numerous newspapers and magazines, radio and television interviews, including Metro newspapers in New York and Boston,Women's Wear Daily, Fox News, The Tyra Banks show, NBC, Investor's Business Daily, The Chicago Tribune, The New York Post, and the Washington Post.

Prior to launching SheFinds, Michelle enjoyed a career in new media. First, she was the Director of Entertainment Marketing for CBS Broadcasting New Media and then she was the Group Director of Editorial Products for women and oversaw all content for women at AOL. Michelle has a BS in Communications from UC Berkeley and a MS in Marketing from Northwestern University.
Panel: Closing Session: Social Media Ethos
Marissa leads the product management efforts on Google's search products – web search, images, groups, news, Froogle, the Google Toolbar, Google Desktop, Google Labs, and more. She joined Google in 1999 as Google's first female engineer and led the user interface and webserver teams at that time. Her efforts have included designing and developing Google's search interface, internationalizing the site to more than 100 languages, defining Google News, Gmail, and Orkut, and launching more than 100 features and products on Google.com. Several patents have been filed on her work in artificial intelligence and interface design. In her spare time, Marissa also organizes Google Movies – outings a few times a year to see the latest blockbusters – for 6,000+ people (employees plus family members and friends).

Concurrently with her full-time work at Google, Marissa has taught introductory computer programming classes at Stanford to over 3,000 students. Stanford has recognized her with the Centennial Teaching Award and the Forsythe Award for her outstanding contribution to undergraduate education.

Prior to joining Google, Marissa worked at the UBS research lab (Ubilab) in Zurich, Switzerland and at SRI International in Menlo Park, California.

Marissa has been featured in various publications, including Newsweek ("10 Tech Leaders of the Future"), Red Herring ("15 Women to Watch"), Business 2.0 ("Silicon Valley Dream Team"), BusinessWeek, Fortune, and Fast Company.

Graduating with honors, Marissa received her B.S. in Symbolic Systems and her M.S. in Computer Science from Stanford University. For both degrees, she specialized in artificial intelligence.
Panel: Closing Session: Social Media Ethos
Stacy Morrison is editor in chief of Redbook, a 103-year old brand she has retooled to be the modern woman's guide to living and loving her hectic/thrilling/TK life in her 30s, when a woman is taking on so many new roles and responsibilities.

Before coming to Redbook, Morrison was executive editor of Marie Claire, a founding editor of Time Out New York and Conde Nast Sports for Women, and editor in chief for Modern Bride and One, a high-end design magazine. She launched internet properties for both of the last two titles, and at Redbook, Morrison has redesigned the redbookmag.com site twice, changing it to a blog-based platform in 2006, so real women's voices—both those of her team and of her readers—would create the REDBOOK conversation about how women today are reinventing what it looks like to be a grownup. Morrison's own blog, Something About Stacy, will debut on Redbookmag.com this spring.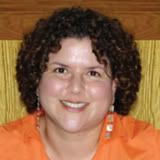 Panel: Large Enterprise Case Study; How to Embrace Social Media Culture
Maria Niles, Consumer Pop Marketing
Maria Niles attended and was a volunteer for BlogHer '05, was a '06 Conference Team member and panel moderator, is a '07 Business Conference Programming Advisory Committee member and is also a Contributing Editor to BlogHer.org. Maria is a marketing consultant and researcher and founded ConsumerPop Marketing in 2005.

Prior to earning an MBA from the Ross School of Business at the University of Michigan Maria received an AM from the University of Chicago in Political Science and a BA from UCLA. Maria lives in Oakland, California and blogs about marketing at consumerpop.typepad.com/fizz and is the editor for the Kleenex® "Let It Out" campaign blog at letitout.com.
Panel: How to Measure Social Media ROI
Katie Paine, KDPaine & Partners
Katie Delahaye Paine is the founder of KDPaine & Partners LLC and publisher of the first blog and the first newsletter for marketing and communications professionals dedicated entirely to measurement and accountability. Winner of the 2006 New Hampshire Business Review Excellence Award for Media and Marketing, she writes KDPaine's Measurement Blog and publishes The Measurement Standard. Her book, Measures of Success, KDPaine's Guide to Measuring Your Public Relationships will be published in January. Prior to launching KDPaine & Partners in 2002, Paine was the founder and president of The Delahaye Group, which she sold to Medialink Worldwide, Inc. in 1999.

For the past 20 years, Paine has been providing marketers and communications professionals with tools, data and information to help them make better business decisions. She and her firms have read and analyzed millions of news articles, Internet postings and internal communications and have conducted hundreds of thousands of interviews in the relentless pursuit of quantitative and qualitative measures of her client's marketing success. She works with some of the world's most admired companies including Raytheon, Allstate, Hewlett-Packard and Southwest Airlines. Most recently, her endeavors have been focused on providing cost effective measurement programs for non-profits, small businesses and government agencies.

Katie was an initial founder of the Institute for Public Relations special commission on measurement and evaluation. She served as the US liaison to the European Standards Task Force to set international standards for media evaluation. A Research Fellow of the Society for New Communications Research, she writes a regular column for PR News on corporate image and crisis communications and contributes to PRNews, Communications World, PR Week, Business Marketing and New Hampshire Magazine.

Paine was named Entrepreneurial Venture Creator, Person of the Year by the University of New Hampshire's Whittemore School of Business. A Cum Laude graduate of Connecticut College's class of 1974, Katie majored in history and Asian studies. She received an Honorary Doctorate of Laws from New Hampshire College in May 1996. She is an Athena award winner and a Board member of the New Hampshire Political Library. Her life is featured in Mark Albion's books, "Making a Life, Making a Living" and "True to Yourself."
Panel: Business Blog Case Study
Marianne Richmond, Resonance Partnership
Marianne is a social media and brand marketing consultant and founder of the Resonance Partnership. Clients include Fortune 500 corporations, small businesses, and non-profits.

She writes the Resonance Partnership Blog, Conversational Media Group Blog, is the Technology and Web Contributing Editor for BlogHer, and is a member of the Media 2.0 Workgroup.

She began her career in a traditional manner, an MBA and package goods marketing. She has held senior level positions on both the agency and client side including Nabisco Brands, Ally-Gargano, Marketing Corporation of America (MCA) and DIMAC Direct.

She co-founded the Richmond Group in 1994 and founded the Resonance Partnership in 2004. She has also collaborated on strategic planning and new business development projects with TBWA/Chiat Day, St. Louis and Arnold Worldwide, St. Louis.

She holds an MBA and an MSW from Washington University in St. Louis, has completed training in Family and Civil Mediation at Washington University Law School, and attended the Wharton Business School New Product Development Program.

Marianne lives in St. Louis, Missouri with her two teenage sons.
Panel: Large Enterprise Case Study
Staci Schiller, Wells Fargo Education Financial Services
As a marketing program manager for Wells Fargo Education Financial Services, Staci Schiller serves as lead blogger for the company's Student LoanDown(SM) blog.

The Student LoanDown, which launched in September 2006, is Wells Fargo's third public-facing blog and its first mass-audience blog focused on finance. In November 2006, it received a grade of "A-" from the Online Banking Report; the same organization awarded Wells Fargo a "Best of the Web" award for overall blogging efforts in December 2006.

Although she's relatively new to social media, she isn't new to strategic communications or marketing. In her five years with Wells Fargo, Staci has worked in student loan product management, creative development, and corporate communications. Prior to joining Wells Fargo, Staci worked in the Washington, DC, press office of Senator Tom Daschle (D-SD), in investment and credit union communications in California, and in public affairs for the Federal Reserve Bank of San Francisco. She also had a brief, misguided foray into telecommunications marketing before returning to financial services—an industry she never imagined she'd work in, much less like.

Staci received a BA in English and Government from Augustana College. A native South Dakotan, she has lived on both coasts and likes the middle.
Panel: I Have Enough Trouble with my First Life!
Cyn has been in customer support management for 17 years. Her past experiences have been mostly in bookstores and non-profit art institutions (Portland Art Museum, San Jose Museum of Art) but her first love has always been technology. Lucky for her, Linden Lab and Second Life came along. She started on the Concierge (high end resident) support team, a group she eventually managed and expanded, and has now taken on the quixhote-esque challenge of reorganizing the support team at the Lab. When she isn't flitting about in-world as Cyn Linden, she can usually be found with her camera in a kayak somewhere in the Santa Cruz Mountains, or fussing about in Second Life on her civilian account.
Panel: The Press Release Must Die
Betty J. Taylor, Krause Taylor Associates
Taylor is co-owner of Krause Taylor Associates, one of Silicon Valley's leading high tech public relations agencies. Veteran high tech communications professionals Taylor and Barbara Krause formed KTA in 1996, after having served together for many years at the helm of Apple Computer's worldwide public relations and corporate communications programs. Since its inception, KTA' s client list has included a mixture of established NASDAQ companies – including Apple, Netscape and Palm – as well as many promising young technology and services companies- from Aliph, Aggregate Knowledge, Kosmix, Numenta, SixApart, Sling Media, and Scalix to ZING.

Prior to a career in public relations, Taylor was an award-winning business journalist and magazine editor based in New York City with Lebhar-Friedman Publications. She was a founding editor of Computer & Software News, an early computer industry weekly. Taylor began her career as a daily newspaper reporter in Cincinnati, and holds a B.S. in Journalism from Ohio University.
Panel: Should You Blog?
Penelope Trunk writes career advice for the Boston Globe and Yahoo! Finance, and her syndicated column runs in more than 200 publications worldwide. Her blog, Brazen Careerist, has been featured in Business Week, TIME magazine, and the London Guardian.

Trunk spent ten years as a marketing executive in the software industry, and she founded three companies of her own. She has endured an IPO, a merger and a bankruptcy. Prior to that she was a professional beach volleyball player.

Her forthcoming book is Brazen Careerist: The New Rules for Success. It will be published by Warner Books in May 2007.
Panel: Solopreneur Case Study
Carmen Van Kerckhove, New Demographic
Carmen Van Kerckhove is co-founder and president of New Demographic, an anti-racism training firm. She hosts Addicted to Race, a podcast radio show about America's obsession with race and edits a network of blogs, including Racialicious, a blog about the intersection of race and pop culture, Anti-Racist Parent, a blog for parents committed to raising children with an anti-racist outlook and Race Changers, a community of people working towards an anti-racist future, one week at a time.
Panel: How to Embrace Social Media Culture
Karen Walrond is the former Chief of Staff of a Fortune 200 company, reporting to the President and CEO. Walrond began her career with this company in 1998 with its software subsidiary, Landmark Graphics Corporation, as a lawyer for the Latin America region of the company, specializing is software licensing, copyright and other aspects of intellectual property law. She then relocated to the company's London office, where she served as legal counsel for the Europe, Africa, Middle East and Russia regions of the organization. She was then promoted to Chief Counsel of Landmark in June of 2002, where she was responsible for the legal staff and was a member of the Executive Management Team, reporting to the CEO of Landmark. She was promoted to Chief of Staff in early 2004.

After adopting her daughter in 2004, Walrond moved with her family to her native Trinidad & Tobago, where she switched careers to become a full-time freelance writer and photographer. She is the author of the weblog Chookooloonks: The Journal, which has provided personal insight into adoption and parenting to thousands, and currently receives 2,500+ hits per day. Chookooloonks was recently named one of the Best Adoption Blogs on the Web by Adoptive Families Magazine. She was also the lead editor for Blogging Baby, before joining Weblogs Inc. (an AOL company) full-time as an Associate Producer for the lifestyle and leisure blogs.

Walrond holds a B.S. in civil engineering from Texas A&M University and a Juris Doctor from the University of Houston.
Panel: Soloprenuer Case Study; How to Measure Social Media ROI
Lena West, xynoMedia Technology
Lena L. West is the CEO & Founder of xynoMedia (zhy-know-media) Technology (http://www.xynoMedia.com) and the creator of the popular program, The Technology Diet. Known as a "geek with speak," Lena understands complex technology concepts and distills them into actionable strategies. She regularly empowers her clients with business and technology strategies that increase passive income by as much as 25-50%. Business-owners routinely hire Lena to access her "big picture" brain power. xynoMedia's mission is to help 10,000 businesses grow 25-50% by 2010.
Panel: Opening Keynote
Lisa was recently named a managing partner and Managing Director of MindShare's Chicago office. Lisa oversees the Chicago operations including clients Sears Holding Company (including Kmart), Wrigley, Kimberly-Clark, Unilever and BP.

Most recently, Lisa was the global account director on BP where she managed a staff of 75+ worldwide employees and nearly $300 million in spending. In her 3+ years in this role, Lisa directed all media marketing efforts for BP's corporate, retail and Castrol divisions with an emphasis on building a truly global team that could share best practice, leverage ideas, insights and learnings, and accelerate the impact of marketing programs.

Prior to running BP's global business, Lisa was the lead US account director instrumental in planning BP's 2001 new brand launch which was named by Fortune magazine in 2005 as one of the top 10 brand efforts contributing an incremental $3.3 billion in brand value since the 2001 launch. BP's image makeover is regularly featured in business school case studies and corporate conferences.

Lisa began her career at Leo Burnett Media working her way up to Media Supervisor on Miller Brewing Company's portfolio of brands and also has experience integrating media and event marketing while at GMR Marketing working for clients such as Intel, Wrigley and Microsoft.

Lisa is a member of the Word of Mouth Marketing Organization and has served on various panels for the Chicago Ad Federation (CAF) and other industry conferences. She graduated from Indiana University where she's still active in recruiting talent to join the media industry ranks. A favorite past-time is eBay where she's a Blue Star seller as well as Angie's List, a latest obsession in finding best recommendations for home improvement.
Panel: How to Keep Out of Real Trouble
Karen has been a writer, editor, publisher and site producer for 20 years. Her content "platforms" span magazines, books, newsletters, websites, and blogs; she is also passionate about information design and content strategy. She also has worked in PR and marketing, and today is Senior Editor on Google's Corporate Communications team. She oversees all 40 of the Google corporate blogs and is managing editor of the Official Google Blog, which attracted 8 million unique visitors last year.
Panel: An RFP for the Measurement Industry
LiveWorld, Inc. has over 20 years of experience creating, operating, and moderating online communities for a variety of companies such as eBay, AOL, Dove, MINI, HBO, BEA, and Campbell's Soup. A LiveWorld co-founder, Jenna is an executive sponsor and consultant for company clients. She oversees the LiveWorld definition of community culture, strategic planning through community development, and the ongoing evolution of the LiveWorld model.

Jenna began her online career in 1984 as part of AppleLink (Apple's business communications service) and AppleLink Personal Edition (which later became America Online), and later headed up community for eWorld and Talk City.
And of course, BlogHer's very own founders will be participating as well.

In addition to discussing The State of the Social Media World, Elisa Camahort helps kick off Day Two's Opening Keynote session, Jory Des Jardins joins the An RFP for the Measurement Industry panel, and Lisa Stone moderates the Closing Keynote discussion.