Serena Williams Wins Australian Open Convincingly
BlogHer Original Post
Serena Williams defeated opponent Maria Sharapova 6-1, 6-2 to win her third Australian Open Women's Singles title.
Kelly at Wicked Backhand says:
Serena Williams has defeated Maria Sharapova in a mere 63 minutes... To say that Serena spanked Sharapova would be a severe understatement. Sharapova could neither serve nor return the ball, Williams could do nothing but...
Apparently the Australian media spent a lot of time talking about how much weight Serena had gained. I guess she showed them that she could still play.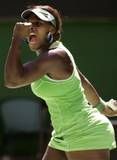 JuiicyScoop writes:
Serena Williams won the Australian open this Sunday after critics slammed her for her weight gain... She dedicated her latest title to her sister Yetunde, who was murdered in September 2003... Williams became the first unseeded woman to win the Australian Open since Chris O'Neil in 1978.
All that and she beat the number one ranked women's tennis player in the world. Way to go Serena!
Contributing Editor Sarah also blogs at Sarah and the Goon Squad and Strollerderby.