BlogHer Conference '07: So Much To Do!
Beyond all the programming goodness going on at the conference (Day One, Day Two, and in Second Life), there are a whole lot of "extras" and activities we want to be sure you're aware of.
Many of these extras are sponsor-related, and we think they're pretty cool.
For instance, did you know that you can earn $200 at BlogHer just for telling one of our sponsors what you think of them?
From Revolution Health:

Earn $200 at BlogHer '07 by telling us what you think about Revolution Health! We're holding focus groups for our web site and products at the conference; your ideas will help us make them better! Focus groups will be held Thursday 4-6PM, Friday 12-1:30PM, and Sunday 10AM – noon. Space is limited to just 8 per group, so reserve your seat today by sending e-mail to dana.cogar@revolution.com. No blog posts expected.
So starting on Friday, we've got some fun activities planned. Like last year, we'll be doing a Birds of a Feather sign-up sheet at registration, which will allow you to find bloggers who share your interest and join them for lunch (this way, everyone's at the cool kids' table!). Wanna see how it worked last year? Check it out!
I'm especially excited about Friday night's cocktail reception. It's taking place on the rooftop terrace, where we'll have a private (and FABULOUS) view of Lake Michigan, while enjoying cool cocktails, donated wine (oops), and scrumptious hors d'oeuvres. But that's not all...

This year, we are proud to present live entertainment! The world renowned, singer-songwriter-blogger, Christine Kane is going to be performing in a specially designated area of the terrace. Attendance is of course free, so we invite you to join her in a one-of-a-kind, under-the-tent BlogHer performance.

Then Saturday kicks it into high gear.
Starting with breakfast (and before our amazing, tech-tacular Keynote Breakfast), a team of Google experts will be hanging out at various tables around the ballroom waiting to talk to you. From 8:00 - 9:00 a.m. you'll have an opportunity to "Ask the Google Experts" how they do it...and how you can do it, too.
Next, you'll have an opportunity to attend a "celebrity" lifestyle coach luncheon, courtesy of AOL Body. ("Celebrity" is my word, not theirs, but I get a little excited about getting to meet tv personalities.)
Here's what's going on:
Ever wonder where to go with all those embarrassing questions about diet and fitness? Or maybe you're just looking for advice on growing your financial portfolio but don't know who to ask...AOL Body invites you to participate in an exciting, life-enhancing luncheon with one of six top lifestyle AOL Coaches...

All you have to do to be a part of this is just sign up. So if you're interested (and wanna find out who I'm talking about), you can RSVP here.
And then...
Well, I'm probably more excited than I should be (but hey - no more excited than Elisa!), we have some really awesome stuff happening at the Saturday night reception.
The party is taking place at the Chicago Children's museum. We're keeping all the exhibits open (so we can play), which should be a fun time in and of itself. But in addition, the event is being sponsored by Dove Ultimate Clear, and guess who they're bringing?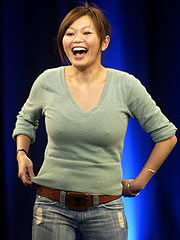 Dove Ultimate Clear will be offering attendees an opportunity to engage in a DIY activity, complete with creative input from Chloe herself (and yes, she'll sign autographs, too).

And to further celebrate "going sleeveless" Dove will be serving a specialty cocktail (the "Sleeveless Ready Shaker") as well as donating $1.00 per sleeveless blogger in attendance to Uniquely ME!.
(If you're comfortable in a tank top, here's a good place to wear it!)
But if that's not enough, don't forget we have all sorts of goodies and givaways and on-site places to check out throughout the whole conference.
You like swag? We got swag! As always, we'll have tote bags stuffed with all sorts of items. But in addition, our exhibitors will be offering freebies at their tables. The Lakeview Terrace will be home to our exhibiting sponsors, so be sure to stop by. Not only will there be free stuff, but there will also be onsite activities, like the ability to make a ScrapBlog onsite, or create a video message for your blog through AOL Body's signature kiosk, plus a bunch of raffles and other extras (did someone say "hand massages"?).
Don't forget, there's also the Yahoo! Internet Cafe & Bookstore! Located on the third floor, the cafe will feature free espresso drinks, ethernet hubs, and lounge furniture, plus cool Yahoo! swag. It's also featuring a mini-Barnes and Noble store stocked with titles written by BlogHers, and will host lots of exciting book signings.
Including hers.
We've also set up a Collaborative Workspace, which is an area designated for you to chill out, juice up (lots of power strips and more ethernet connectivity), and have intimate discussions with your fellow bloggers. There will be a second AOL Body video kiosk here, too, for those of you who want to film something extra creative.

All in all, it's looking to be a fun-filled (and I daresay action-packed) event. Registration ends Monday, though, so time is running out -- you can register here if you haven't already.
See you in Chicago!
COMMENTS
Most Popular
May 18, 2017 - 7:21am by
melisa