The Veggie Evangelist in Ten Seconds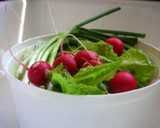 I started blogging by accident, just a 30-day project - and on April 1, so I could quit any time with a big smile and "April Fool's joke"! Two years and 750 vegetable recipes (and 41 beet recipes) later ... but I still don't 'get' artichokes.
I'd been a food writer for two years before becoming a food blogger too.
I'm a reformed vegetarian but this time of year, when the farmers markets are bursting, I look at meat and think, "What comes first, the chicken or the eggplant?"
My guiding principles are kindness and generosity.
I've already met 13 food bloggers and can't wait to put faces to names to many more in person at BlogHer '07! (What? People blog about something besides food? Okay, I look forward to meeting all bloggers in Chicago ...)
NOTE TO FOOD BLOGGERS ATTENDING THE CONFERENCE IN CHICAGO: If you haven't heard from me about a food blogger event on the Friday evening, please e-mail right away at ak AT kitchen HYPEN parade DOT com.
BlogHer food editor Alanna Kellogg blogs from St. Louis at A Veggie Venture and writes the food column Kitchen Parade.
COMMENTS
Recent Posts
by Alanna Kellogg