Poundy's Recipe Cards Great for a Laugh - Now a Book!
Contributing Editor Karen Rani also blogs at Troll Baby and owns Troll Baby Graphics.
Wendy McClure of Poundy and Candyboots, has taken her love of collecting hysterical old recipe cards and made them into a book, titled The Amazing Mackerel Pudding Plan. You know the old cards I mean, where the olive green tablecloth hosted hot dog pineapple-shaped castles (picture below) and jello molds with fruit in them. The cards are absolutely hilarious and bring back a flood of memories of your mothball-scented Grandmother, with curlers in her hair and her teeth in a glass on the kitchen counter. Maybe that's just me.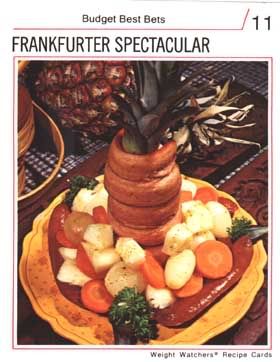 COMMENTS
Recent Posts
by Karen Rani
Most Popular
We asked our bloggers to craft some recipes from the different Success® Rice flavors and tell us about it. Check out their ideas and you could win a $100 Visa gift card!
Read more
Lean Pockets have no artificial flavors, a good source of protein & have 100% real cheese. Read our bloggers posts where they will tell you their guilt free experiences with Lean Pockets. Plus get a chance to win $100!
Read more