Making Jewelry from Science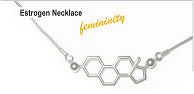 Made With Molecules makes jewelry in the shape of molecules, like Serotonin, to promote happiness, much like the Serotonin in our brains makes us happy.
My favorite is the Estrogen Jewelry. With two sons and a husband, I need all the help I can get.
There's also the Focus Necklace, decorated with the molecules dopamine, acetylcoline, norpinephrine, and neurotransmitters that aid attention. I had to go back in the archives of my brain to recall these molecules and their job in the brain.
Serotonin: relaxation, satisfaction, happiness.
Acetylcholine: learning, dreaming, memory.
Dopamine: love, passion, pleasure.
Huge thanks to Mir from Woulda Coulda Shoulda for this fabulous link.
Photo Credit: Made With Molecules
Contributing Editor Karen Rani also blogs at Troll Baby and owns Troll Baby Graphics.
Related Posts
More Like This
Recent Posts
by Karen Rani
Del Monte Fruit Burst Squeezers are healthy snacks you can offer your children after a long day at school. 17 moms offer their best back to school snacking and lunch tips. Find some great ideas and get a chance to win a $100 VISA Gift Card on each blog.
Read more
Recent Comments
on Crafts