Not Since Pick Temple
My debut on TV is the only thing that comes close to BlogHer '12.
Even though I returned from BlogHer '12 on Sunday, August 5, I am still coming down from the experience today, over a month later.
After skyping with Elaine R.N. yesterday and speaking with Laine today, both were my roommates at BlogHer '12, I am chilling tonight to assimilate the impact from the wild and wonderful gathering at the Hilton Hotel in New York City. I am thinking of the unending stimuli of intelligent women (and men), instructional classes, informative panels, delectable food, boisterous beverages and unrestrained parties. Wow! What a time it was.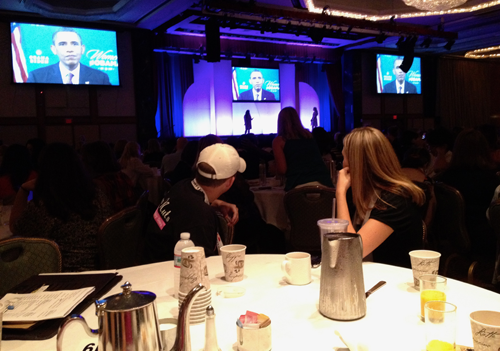 President Obama says, "Hi!" to BlogHer '12.
This overwhelming memory collage has caused me to sit here and ponder the last time I encountered such a profound social experience. As I went flipping through the years, going backwards through my life, I had to go pretty far. You see, the only thing that has ever impacted my life in a similar manner as BlogHer '12 was my TV debut on The Pick Temple Show, when I was five years old.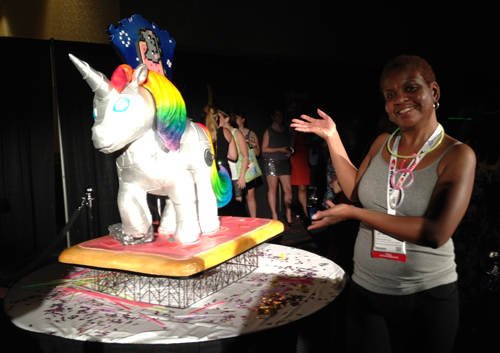 SabrinaBlogs sparkles along with the Sparklecorn.
Mother had sent a postcard in and I was selected to be a Giant (Food Stores) Ranger, sitting in the Hayloft of The Pick Temple Show TV audience. I was shy and had mixed emotions about such a public position, being concerned at the obligations of being a TV star, because even at that age, I knew "no one rides for free."
But, I was fully compensated for my participation as, when we lined up to leave the studio, we were each given a bag of groceries from Giant Food. When we got home, I remember thinking that bag of groceries was mine and starting taking it up to my room. I was mad when Mother said it had to stay in the kitchen and be shared by the family. Can you imagine? She took away and made me share my first bag of SWAG!
With 1950s cowboy lore setting the tone for children's television,
Washington, D.C.'s Pick Temple Show was a BIG hit.
The giveaway bag had products from every area of the Giant Food Store chain. I remember the bread from Heidi Bakery which I loved because the logo was a Dutch Girl with her white starched hat. And, then there was the song we sang with Pick Temple to the tune of "On Top of Old Smokey:" My favorite bread's Heidi; I hope it's yours, too; It tastes so delicious, and it's so good for you!
Let's see. Products in a bag as giveaway swag. Sponsored gatherings with good times and camaraderie based on product marketing. Learning to sing the tune of promoting products while trying them to experience their value and potential, why, I just wasn't on The Pick Temple Show, I was in early training for BlogHer '12!
No wonder I took to that BlogHer '12 Conference in New York City like a duck to water. I was an experienced marketer at age five.
And, somehow, it just gets better and better.
Here's looking forward to BlogHer '13 in Chicago!
Don't miss registering with Early Bird Pricing! In effect until November 7, 2012.
SunbonnetSmart.com is authored by a little bird who loves to lure unsuspecting BlogHer bloggers to her web site.
ADD A COMMENT
Recent Posts
by SunbonnetSmart.com
Most Popular
We asked our bloggers to craft some recipes from the different Success® Rice flavors and tell us about it. Check out their ideas and you could win a $100 Visa gift card!
Read more
Lean Pockets have no artificial flavors, a good source of protein & have 100% real cheese. Read our bloggers posts where they will tell you their guilt free experiences with Lean Pockets. Plus get a chance to win $100!
Read more