November is National Lifewriting Month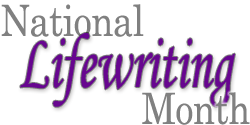 November is National Lifewriting Month. You can read more about its history and evolution at Sharon Lippincott's blog. In my last post, I talked about theDaughters of England series and how it inspired me to journal. A few years ago I joined the Story Circle Network. As I learned more about the organization and lifewriting, I finally realized that my little personal blog is also a form of lifewriting. At this point in my life, I don't have any intention to publish a memoir, but blogging and journaling gives me the opportunity to capture my life experiences in short stories. It's rewarding for me, and I hope my friends and family enjoy reading them.
Lifewriting doesn't have to be about writing a whole book! It can be about capturing the everyday experiences that make us who we are. So during November, to celebrate Lifewriting Month and the month of my sister's birth, I'm going to blog a special project: a series of stories about my sister and me. I hope you check back every week for a new story. And I hope this project inspires you to start your own!
Comments
More Like This
Recent Posts
by beccataylor
Help protect your family from the transmission of harmful bacteria and viruses! Use Lysol's Full Bathroom Range to remove soap scum, lime scale, and everyday dirt and grime to leave your bathroom smelling clean and fresh.
Read more
Most Popular
on Work/Life
Prudential Financial
Protect your loved ones and save up for the unexpected. Planning ahead for unfortunate events life may throw at you can be empowering and helps put you back in control. Read our bloggers' posts and see how you can be prepared for life's future events.
Recent Comments
on Work/Life