Oh What an F-Word
~ Oh What an F-word ~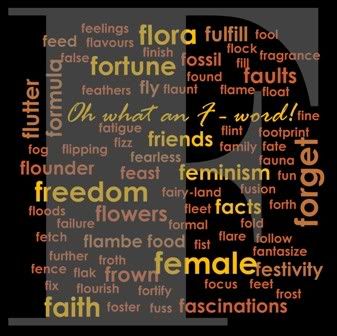 Oh what an F-word!
I want to fly high with the feathers in my arms.
Lead a fearless life and feat into the feast of living.
I desire fleeting away from the fake and fission of moments.
Ground my feet tight but fly and touch the heights.
I want to flock with my friends and family.
Flourish and float in ease of froth and forth fun.

Oh what an F-word!
Further I want to fuss the rule-book and create my own recipe of life.
A formula that defines a fusion of flame and frost of the dimensions intervene.
I want to rise above the failure and fortify the situation.
Experience the freedom and fulfill my fortune.
Few forget leads to the new found.
Let me be a little fool only to learn all.
Let me follow someone only to lean more.
Let me fold my arms and focus the core.
Let me enhance fossil and leave back the footprints.
Let me in the comming future open my fist to fetch opportunistic hints.

Oh what an F-word!
The fog gets clear in my fine mind.
And here I enjoy the flambé food at the New Year dine.
Flowers fragrance and cultural flavors welcomes all.
Remove the fence, the festivity recalls.
I want to fix everything before it overflows.
I would like to finish my pending things as the plan goes.
Fasten the feelings and the flare in fascinations.
I want to fantasize and recreate the fairy land to live in.

Oh what an F-word!
From formal to flair nature I roll in joy within,
I want the green fertile fields and flamboyant fashion.
I want the unwise nature of human towards the flora and fauna fade and diminish day by day.
Let each child is feed enough and allowed to education and play.
No famine, no floods, no fatigue, no fights, no faults searching.
Only the faith, fate and flint to create fire are needed.

Oh what an F-word!
I frown sometimes to the F-word.
And most of the times I wish only to flutter,
I attain against any flounder.
And fill in happiness and fizz the flak.
I fancy flipping from the old.
I want to flaunt into the flexibility.
I wish to hold up the facts over the false story.
I am bound to fly freely being a proud blossoming Female!
I shall and I want you all to protect and foster the virtue of the Feminism.
Related Posts
More Like This
Jockey teams up with bloggers for a summer #SavedBySkimmies blog post series! So what are Skimmies? Check out these posts and see what our bloggers thought of Jockey Skimmies, plus get a chance to win a $100 Jockey gift card.
Read more
Most Popular
on Work/Life
Sparkling ICE Reviews
Read our bloggers' posts and get more details on how you can enter Sparkling ICE's Flavor Face Off contest plus uncover the delicious flavors that Sparkling ICE has to offer.