One Love, Two Colors
Authors of "One Love Two Colors" speak to BWDB:
Tell the readers a little more about yourself Bobby, where are you from?
We are Bobby and Margaret Smith, an interracial couple from England. Although Margaret was born in England – back in 1966 – she grew up in Nigeria, only returning to England when she was 18. I am Bobby, a self-confessed, working-class punk rocker (44 years old) who has lived in England his whole life. Our marriage has now lasted 15 years, giving lie to the idea that mixed marriages are relationships that are forever doomed to fail. We have two children, aged 13 and 10.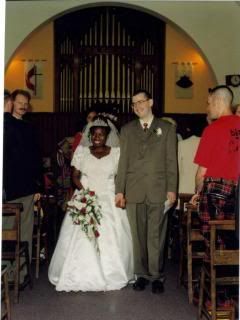 Given that I am a punk and Margaret a middle-class Nigerian Methodist, people could never work out the attraction we felt towards each other – another reason for our writing the book. In actual fact, the core values that we both cherish – such as the belief that marriage is the best environment to bring up children – is way more important than the clothes we wear or the colour of our skin. That is not to say we are a colour-'blind' couple as we are not. We prefer to think of ourselves as colour-'open'. For reasons that often hark back to slavery – especially in America - the notion that black women/white men can fall in love with each other on an equal footing still seems controversial, despite it being the year 2012. We feel that it is time to reject the past and enjoy the future together, without the hang ups of race stopping people finding happiness.
Was there anyone you guys had to distance or sever ties with due to their opposition?
Margaret lost quite a few friends when she announced she was dating a white guy. They viewed her as a race 'traitor' and shunned her. This was a shock to Margaret as up to that time all the prejudice she had experienced had come from Asian or white people. All of a sudden it was coming from people who shared the same colour skin as her.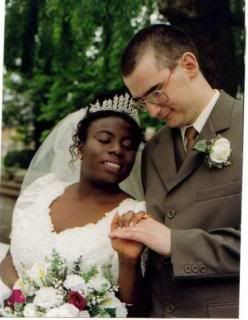 Psychologically that was quite hard for her to come to terms with. Her family also found it hard to accept me as they thought Margaret would marry a fellow Nigerian and not someone from England. However, saying that, her family did eventually accept me for what I am and they did turn up for our wedding. In addition, Margaret's sister was very supportive of our relationship. When we first dated Margaret was very reluctant to be seen in public with me – she often used to walk a few paces ahead for instance. The reason for this is that she was fed up with the stares and the 'kissing of teeth' she experienced from other black women, when they realised we were a couple. In time Margaret managed to block out these attitudes, but for some people this can be quite hard to do. The way I look at it is that individuals have prejudices and stereotypes and the only way you can change their opinion is to show another way – again, a motivation for our book. For too long people outside of mixed marriages have presumed that the black woman in such a marriage is on the lookout for easy money and that the white guy is an 'exotica' chaser. Both ideas are utter nonsense, as we show. Neither of us was looking for a partner from another race, it is just the way it happened for us – our respective colours were not part of the attraction – perhaps a reason why we are still married.
By way of contrast I had one family member who did not attend the wedding as he 'does not approve of that type of thing'.
Thank you very much Bobby...Please send our regards to Margaret!
✿ Admin and head writer of blackwomendeservebetter.com
Related Posts
More Like This
100% fruit in a portable, resealable pouch so parents can keep going knowing their kids can enjoy a healthy yet delicious snack whenever, wherever. See why our bloggers choose GoGo squeeZ and why their kids love the delicious taste!
Read more
Most Popular
on Marriage and Commitment