Our Bedtime Ritual: A Help, A Thanks, or A Wow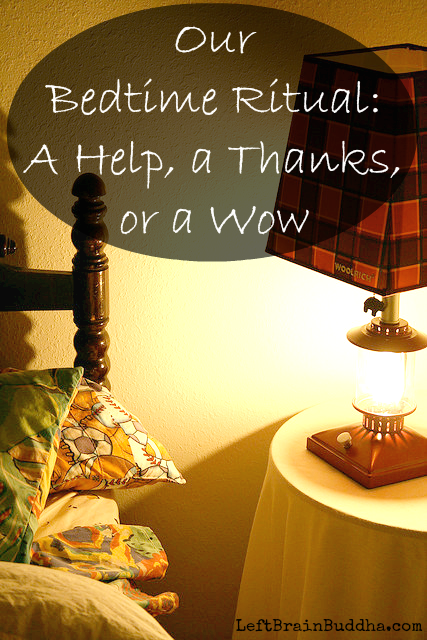 In our relatively secular household, we haven't established a bedtime routine with nightly prayers, or traditions like going to church on Sundays. But my daughter, now 7, is becoming aware that her friends go to church on Sundays, and we don't. They say their prayers each night, and we don't.
She's already figuring out some of the ways that her mother is a bit different.When she shared with me a few weeks ago all the things that her friend had taught her about Jesus, I gently told her that was what some people believe about Jesus, but it wasn't what I believed. She gave me her most knowing look, and told me, "That's okay, Mom. You can just think about your Buddha nature."
Dear God, when did she get so wise?
But these conversations led me to ponder the meaningful rituals that I want to create with my children. I don't just want family routines, which become a force of habit and are often done unthinkingly. I want rituals ~ acts that are set apart from everyday life, through meaningful language and practice. I want something that lifts us out of the mundane and connects us to the sacred. Whatever that is.
My daughter wanted to start saying prayers. Because I have issues with religious words like "prayer," I asked if we could call it a meditation.
She said no.
So we started saying prayers. Each night, the atheist/Buddhist mother and the "I believe Jesus is magic because my friend told me" daughter breathe deeply, close their eyes, and pray.
And just what is prayer, really? Does it have to be "Our Father, Who Art in Heaven"? I love Anne Lamott's description of prayer in Help, Thanks, Wow:
"[P]rayer is communication from our hearts to the great mystery, or Goodness…; to the animating energy of love we are sometimes bold enough to believe in; to something unimaginably big, and not us…. We can pray for a shot at having a life in which we are present and awake and paying attention and being kind to ourselves."
Okay, if that's prayer, I can do it. It's my spirit, my breath, communicating with the universe. It's stardust, speaking to stardust.
So after bath time, brushing teeth, and reading stories, I lie down with my daughter and we say a lovingkindness meditation prayer together. I love this one that Dani Shapiro describes in her memoir Devotion, which she learned from Sylvia Boorstein:
May I be safeMay I be happyMay I be strongMay I live with ease
I sometimes change the words a bit. I like "May I speak with kindness" or "May I treat others with kindness."
And then, inspired by Anne Lamott's words, we each choose to say a Help, a Thanks, or a Wow.
Help
Who are we asking to help us? I've decided it doesn't matter. It's simply voicing that sometimes we can't always do it all by ourselves. It's admitting our vulnerability. The minister at the Unitarian Universalist church we attended several years ago described asking for help as a moment of holy connection. Allowing someone to help us facilitates the practice of compassion.
Anne Lamott writes, "Praying 'Help' means that we ask that Something give us the courage to stop in our tracks, right where we are, and turn our fixation away from the Gordian knot of our problems. We stop the toxic peering and instead turn our eyes to something else … whence our help comes."
This meditation prayer is a chance for me to admit to my daughter that I am not perfect. Some nights I will ask for help with being calmer the next day. Or I will ask for help remembering to take a deep breath, and respond, not react, when I get frustrated.
She asks for help with math. Or her handwriting.
And it's lovely ~ the things she sometimes has trouble admitting she needs help with during homework time, she reveals to me in prayer.
Thanks
I believe gratitude is a fundamental component of our life practice.
"'Thanks' is a huge mind-shift, from thinking that God wants our happy chatter and a public demonstration and is deeply interested in our opinions of the people we hate, to feeling quiet gratitude, humbly and amazingly, without shame at having been so blessed. You breathe in gratitude, and you breathe it out, too."

Anne Lamott, Help, Thanks, Wow
The other night, I told my daughter how grateful I was for her and her brother getting along and playing nicely that day. I was thankful for how loving they were. She beamed.
And the next day, she was more tender with her brother. She breathed gratitude and lovingkindness.
I love hearing what my daughter expresses her gratitude for ~ her teachers, her friends, her family, or her bed. The other night, she said "Thanks for a place to live, for the earth, and for my universe."
Wow.
Wow
"'Wow' means we are not dulled to wonder…. 'Wow' is about having one's mind blown by the mesmerizing or the miraculous: the veins in a leaf, birdsong, volcanoes…. Astonishing material and revelation appear in our lives all the time. Let it be. Unto us, so much is given. We just have to be open for business."

Anne Lamott, Help, Thanks, Wow
I love hearing my daughter's wows. I love hearing what amazes and astounds her: the color of leaves, the love of her teachers.
I love that she is cultivating an attitude of wonder. The other night, I chose to do a Wow. I said, "I am just wowed at how much you are learning at school and how much you have grown since last year."
Comments
More Like This
Recent Posts
by Sarah Rudell Beach
Save time, money and space with the FoodSaver® Vacuum Sealing System! AND it keeps food fresh up to 5x longer! Read our bloggers' experiences with the FoodSaver® System and see why you should get one for your home. Plus get a chance to win $100 Visa gift card!
Read more
Recent Comments
on Family