Outdoor summer art activities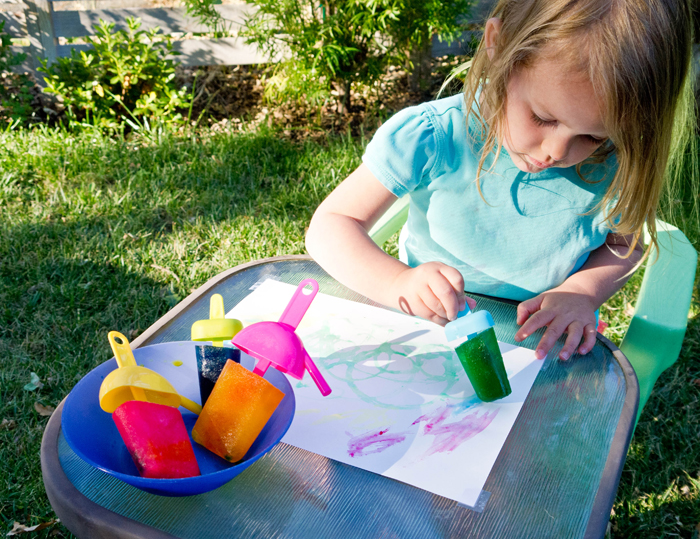 The other day temps were in the mid 80's and the last thing the tot and I wanted to do was anything in the house. Sure, it's always fun to bring markers and crayons outdoors, but there are also lots of fun ways to get crafty with summer outdoor art activities that keep everyone cool. Along with helping hone fine-motor skills, these toddler tested (and approved!) projects can be done over and over and over and over....
You know what I'm saying.
Frozen edible paints - This is so simple - and so fun! Fill small popsicle molds 3/4th of the way full of lemonade and then add a few drops of food coloring to each, creating several different vibrant colors. Pop the tops on the popsicles and freeze overnight. The next day, release the popsicles and take outdoors along with a several sheets of white paper. Enjoy drawing with the popsicles along with taste testing! Your child can see if the various colors of popsicles taste the same - or different! Just be prepared for a very colorful face and mouth once finished....
Magic mist - Select three colors of washable paint with your toddler and add a scoop of each to three small spray bottles. Small misters are around id="mce_marker" at your local everything store. Add about 1/2 cup water to each bottle, screw on the top, and shake, shake, shake to mix the paint and water together. Pick a spot outdoors to tape the paper on an wall, fence or even flat on your driveway. Now your child can spray and mist that water-downed paint all over the paper watching as the colors blend and drip together. Encourage color theory skills by having your child yell out colors along the way! Make sure to use washable paint and avoid working on untreated wood, which does stain (which I discovered while doing this project (oops)).
Driveway painting - This is so simple - and so fun. Draw large shapes, letters, or objects with your toddler on the driveway or sidewalk using sidewalk chalk. Once finished, offer your child a small plastic container filled with ice-cold water and a medium-sized paintbrush. Encourage your child to paint over the top of the chalk drawings and see what happens! And, if your child gets more interested in painting themselves with that cold, cold water - so be it. Experiment by doing the activity in reverse - draw with the water and then cover with chalk. Does the chalk look different? What happens with the water? Along with being plain fun, this activity encourages letter and shape recognition.
Found object sculpture - Have fun with the natural objects in your yard by creating a small structural sculpture using twigs, leaves, or even flowers. Help your tot start by forming a teepee like base using small sticks. Now your child can add to the creation by embellishing with leaves or adding bigger sticks. Creating a balanced form takes focus and concentration! Make sure to take pictures of the finished sculpture to remember the experience.
What's your favorite summer outdoor activity to enjoy with your toddler? Share a link!
Recent Posts
by sarahlipoff
Most Popular
We asked our bloggers to craft some recipes from the different Success® Rice flavors and tell us about it. Check out their ideas and you could win a $100 Visa gift card!
Read more
Lean Pockets have no artificial flavors, a good source of protein & have 100% real cheese. Read our bloggers posts where they will tell you their guilt free experiences with Lean Pockets. Plus get a chance to win $100!
Read more