Photography Contest/Link Up! :D
Hey photog lovers of all sorts!
I am thrilled you've found yourself here! I've been wanting to do a photo/blog link-up for awhile now. I just recently finished teaching a basic "How to use your SLR" camera course and thought if anything, this would be a great place for the participants in that class to continue to show off their work. :)
This "contest" (if you want to call it that...;) is all about the love of photography. I'm inviting any and all who just love trying to capture that imperfect, perfect picture! No editing or post processing is required. Just link up your shots, and throw it down! ;)
Here are the rules for the ThRoWdOwN!
Your picture must contain a child or pet- it doesn't need to be your child or pet. Basically, no pictures of plants... lol :)
Your picture just can include something as tiny and simple as a kittens whiskers, or a baby's pudgy hand... just make sure something in your picture lets me know there is a kid/animal present.
Only one submission per person.
No "questionable" pictures. Meaning.... as a mama of 3, I most definitely think a babe splashing in the sprinkler in their birthday suit is adorable, but I don't want any one participating in this to have a negative experience, and lets face it, there are weirdos out there. So keep the photos PG :)
To have your photo considered for "judging" you MUST copy and paste the button link below to the post containing your photo entry.
Each Friday, we'll have a new theme. The goal of this, is basically to get your camera out on a weekly basis and think creatively. :)
Here it is: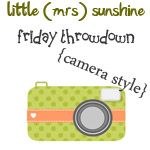 Comments
More Like This
Recent Posts
by AshleyLadwig-Mckenney
Our bloggers use the new ARM & HAMMER™ Truly Radiant™ Collection for a radiant smile. Read their posts where they share a few of their real-life experiences and advice on how to feel radiant day-in and day-out. Plus get a chance to win a $100!
Read more
Marshalls Reviews & Giveaway
Have you shopped for your children's Back to School outfits? Marshalls carries the latest trends that your stylish kids will love! Read our bloggers' reviews and see why they chose Marshalls plus get a chance to win a $100 Marshalls gift card.
Recent Comments
on Family