Pineapple Avocado Vinaigrette & Light Zucchini Spaghetti Salad
I love using my new veggie spiralizer, so I decided to try a new vinaigrette with a light and easy zucchini spaghetti salad. The salad itself is easy and quick, but the vinaigrette is really the star here. I have discovered that I love making my own vinaigrette and salad dressings because they taste so much better than store bought salad dressings. Since I had an avocado I wanted use and some ideas for a new salad dressing, I put together my Pineapple Avocado Vinaigrette & Light Zucchini Spaghetti Salad!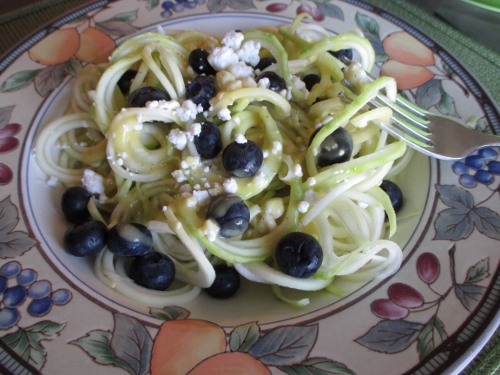 Image: Courtesy of Jodee Weiland
With one avocado left, I decided to make my vinaigrette. I wanted to blend the flavors of avocado, pineapple, lime, and honey to make a sweet and tart salad dressing that would be both tasty and healthy.
Read more at Learn from yesterday, live for today...
Comments
More Like This
Recent Posts
by Jodee Weiland
Help protect your family from the transmission of harmful bacteria and viruses! Use Lysol's Full Bathroom Range to remove soap scum, lime scale, and everyday dirt and grime to leave your bathroom smelling clean and fresh.
Read more
FoodSaver® Reviews & Giveaways
Save time, money and space with the FoodSaver® Vacuum Sealing System! Air is the enemy of freshness and FoodSaver® vacuum sealers remove and lock out air and moisture. It keeps food fresh up to 5x longer! Read our bloggers' posts and know more about FoodSaver® plus get a chance to win $100!