Pink for Breast Cancer Awareness Month
The month of October is the National Breast Cancer Awareness Month, "a collaboration of national public service organizations, professional medical associations, and government agencies working together to promote breast cancer awareness, share information on the disease, and provide greater access to services."

Pink is the color for Breast Cancer Awareness Month, and in honor of such a notable cause I decided to create a collage of some of my favorite pink inspired pieces. Also, I would like to highlight the Susan G. Komen for the Cure foundation that does so much for Breast Cancer Awareness.

Hope you like my board!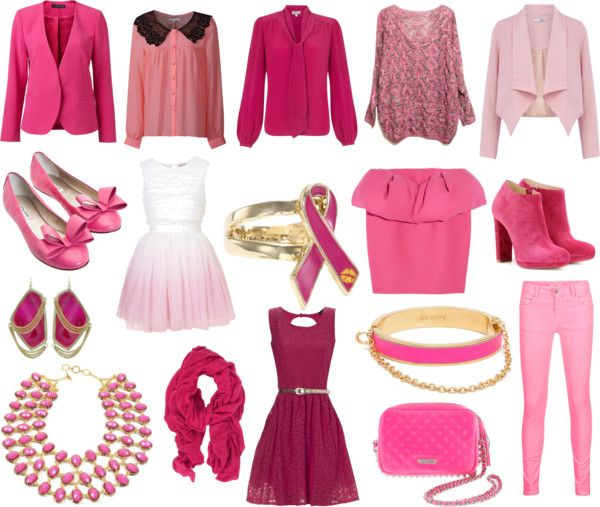 Forever New Blazer
,
Lace Top
,
Tie Neck Blouse
,
Pink Sweater
,
Dorothy Perkin Blazer
,
Oroton Ballet Flat
,
Topshop Prom Dress
,
Betsey Johnson Breast Cancer Awareness Ring
,
Giambattista Valli Peplum Skirt
,
Christian Louboutin High Heels
,
Kendra Scott Earrings
,
Amrita Singh Necklace
,
Pieces Knitted Scarve
,
Jane Norman Lace Dress
,
Cc Sky Bracelet,
Rebecca minkof Bag
,
Aaiko Skinny jeans
Comments
More Like This
Our bloggers use the new ARM & HAMMER™ Truly Radiant™ Collection for a radiant smile. Read their posts where they share a few of their real-life experiences and advice on how to feel radiant day-in and day-out. Plus get a chance to win a $100!
Read more
Recent Comments
on Makeup