Pinterest and Book Blogging: Use The Latest Social Media Craze To Your Site's Advantage
What is Pinterest?
Pinterest is a social networking site that allows users to curate and develop virtual "pin boards" with pictures and links from around the web. Users can link to sites they find across the internet or they can repin other users pictures and links. Pinterest is very useful for party planning, discovering the latest home décor trends, and oohing and aahing over super cute shoes.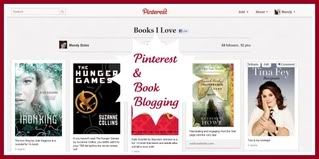 How Can Pinterest Help A Book Blog?
Oddly enough, I find that I am getting almost as many hits on The Well-Read Wife from pinning my posts to Pinterest as I do from posting them to Twitter. At first I found this weird because I have over 2700 Twitter followers and only 57 Pinterest followers. So why am I receiving as nearly as many hits from Pinterest as I am from Twitter? I think it may have something to do with the reasons people use Twitter and Pinterest respectively. I use Twitter to catch up with friends and keep abreast of current events and celebrity gossip. I think people use Pinterest as a resource. What are some great kid friendly recipes? How can I put together an elegant centerpiece for under $10? How about a great DIY project? All of these things can be found on Pinterest with a quick search.
Make Your Pinterest Profile A Resource For Book Lovers
So why wouldn't someone search for a great book to read? That's where we book bloggers come in. Pinterest has the potential to be a very useful part of your book blog's social media plan. Pinterest has the advantage over Twitter and Facebook when it comes to our particular niche, because it promotes the cultivation of information in as simple a way possible. Unlike Facebook, Pinterest users don't have to restrict their searches to information pinned on their friends' walls. Users can choose to search the entire site. So while a user may not be following your profile, they can still look at and click your link even if they don't repin the link or choose to follow your profile.
The graphics included with each pin make the links more enticing to users than looking up and following a hashtag on Twitter (as Tweets are typically just text with a link). Seeing that The Hungers Games is a great book written out in a Tweet is one thing, but seeing The Hunger Games beautiful cover graphic along with a positive review is a completely different experience. Pinterest has the ability to appeal to reader's visual senses as well as the cerebral.
I have been cultivating 4 Pinterest boards geared toward book lovers.
There are so many possibilities when it comes to Pinterest being a resource for book lovers! Possible board topics include book quotes, books turned into movies, book inspired art, and so much more. As book bloggers, we are very lucky. Because of cover art, we typically have a beautiful graphic to go with each post we write. We need to use that to our advantage and pin away, because it will get the word out about the books we love to a wider audience!
I am making a directory of book bloggers on Pinterest over at The Well-Read Wife. If you are a book blogger and would like to be included, simply email a link to your Pinterest page to me at wellreadwife [@] gmail dot com. Please make sure your Pinterest page has a link to your blog on it.
FYI – Please see this post on Pinterest Etiquette if you are unsure how to use Pinterest correctly or if you are worried that your Pinterest posts could be considered copyright infringement. Also, I believe Pinterest is still invitation only. If you are not on Pinterest yet, simply have a friend that is on it email an invite to you.
Further Reading:
The Nester Pinterest and Blogging: The Good, The Bad, and The Huh? – This post is great. It goes into deep detail about how all Bloggers can use Pinterest to their advantage and it explains the Pin It! button that you can install in your blog posts.
COMMENTS
Recent Posts
by MandyBoles