Piri Piri Cauliflower Steak + Kale and Kabocha Squash Salad with Cinnamon and Nutmeg
On Halloween, while still living in New York and on day three of no power post-Hurricane Sandy, my husband and I went to Blue Hill at Stone Barns for dinner. This was a bucket-list restaurant – an expensive treat and somewhere we had wanted to dine for years. A decidedly non-vegan restaurant, they made me a spectacular plant-based meal. I took one photo and realized the lighting was completely off so I blissfully put my camera away and enjoyed a warm, romantic dinner with my man. My entrée was a gorgeous cauliflower steak, roasted in a sweet and sour sauce. I have wanted to make a cauliflower steak since then and finally did so this week.
Since it's called "steak" I wanted to prepare the cauliflower in that way. I opted for a Piri Piri seasoning that I picked up at Dual Specialty Store, an Indian spice market, in Manhattan. It is a spice mix used in African and Portuguese cooking and this particular Piri Piri is super-hot and spicy, containing paprika, black pepper, ginger, garlic, onion, cinnamon, cumin, coriander, turmeric, sesame, oregano, cardamom, nutmeg, and mace. I wanted to serve something cool with the hot steaks and decided to make a very simple kale and kabocha squash salad (that particular combo was on my mind after Gena posted this salad recipe) seasoned with nutmeg and cinnamon, both in the Piri Piri seasoning.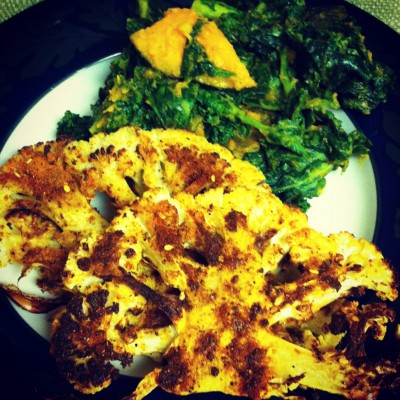 Piri Piri Cauliflower Steaks
by JL Fields @ JL goes Vegan
JL Fields, a vegan lifestyle coach, writes the blog JL goes Vegan and writes/edits the community blog Stop Chasing Skinny.
Recent Posts
by JL Fields
Most Popular
We asked our bloggers to craft some recipes from the different Success® Rice flavors and tell us about it. Check out their ideas and you could win a $100 Visa gift card!
Read more
Lean Pockets have no artificial flavors, a good source of protein & have 100% real cheese. Read our bloggers posts where they will tell you their guilt free experiences with Lean Pockets. Plus get a chance to win $100!
Read more