Pomegranate Chocolate Chunk Oatmeal Cookies
Are you all as bake exchange-crazy as me?
I've controlled myself this year and am only involved in 3 different baking exchanges, one of which is the super fun Food Blogger Cookie Swap, which meant some delicious Andes Mint Chocolate Cookies arrived in the mail from Kristy the other day with a lovely note! I can't wait to see what else turns up, even if my husband is mildly concerned we'll get cookies from the one person who signed up just for the fun of poisoning a stranger. Really, did anyone else even consider this??
Anyway, even if you're involved in only one bake exchange, or are sticking to your own trusty baking this holiday season, I have a fantastic cookie recipe for you to include that will change things up a little but still be traditional enough to please the classic cookie lover. I mean, it's essentially an oatmeal chocolate chip cookie. Except then there's pomegranate arils in them too, and they are zingy and fresh and a little crunchy and absolutely stunningly beautiful in colour.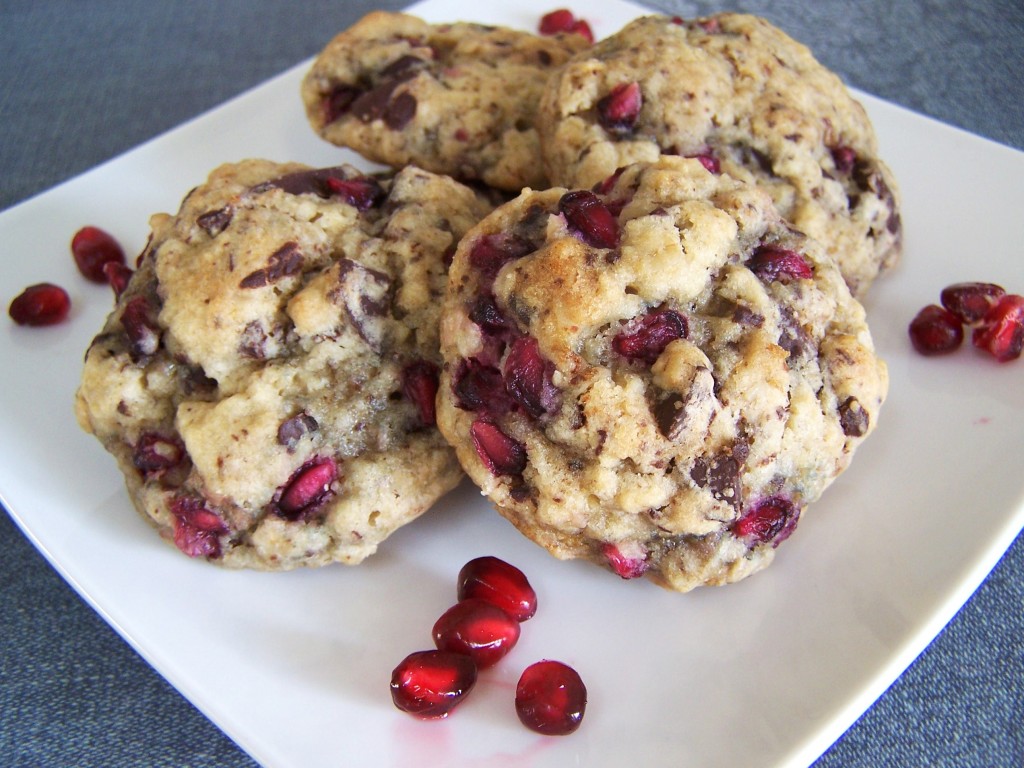 As you may know if you read this blog, like, ever, I'm more than a little fond of cookies. I really love them. As in, if I'm baking, and it's something other than cookies, you can guarantee cookies will be in the oven within 24 hours. I never want them to feel forgotten or second best. Like any good marriage, no matter how busy one gets with other things, you always need to make time for your number one love.
Don't let them feel forgotten just because you happen to have buns in the oven.
I'll stop there, suffice to say I really love cookies. And my husband. And I know he loves me because he worries about strangers shipping me poison cookies. That's true love, right there.
But these cookies - first of all, have you had a pomegranate? They're a pretty new thing to me. And they're messy, my friends. But oh so fun and worth it! (Above marriage/cookie analogies not to be applied here in the interest of preserving appetites. Sorry, I am just not in a G-rated mood tonight, I'll try to focus).
So yes, pomegranate! The fruit where you throw out the skin and flesh and eat the seeds! Or, as I recently learned, thearils. Oooh, so fancy. One pomegranate is CHOCK FULL of these juicy little arils, and one little seed gives an explosion of flavor in your mouth. These aren't called a superfruit for nothing.
I tell you often that something is one of my favorite cookie recipes, and I truly mean it every single time. And these are definitely another one of my favorite cookies. I made them a couple days ago and am going to the store tomorrow for more pomegranates to make some more. If you're involved in one of the same baking exchanges I am, let me know how you feel about pomegranate in your cookies! Or make them to share, I would love to have someone help me stock my freezer with these! I really hope you all already love pomegranate or are willing to take the plunge to try these cookies.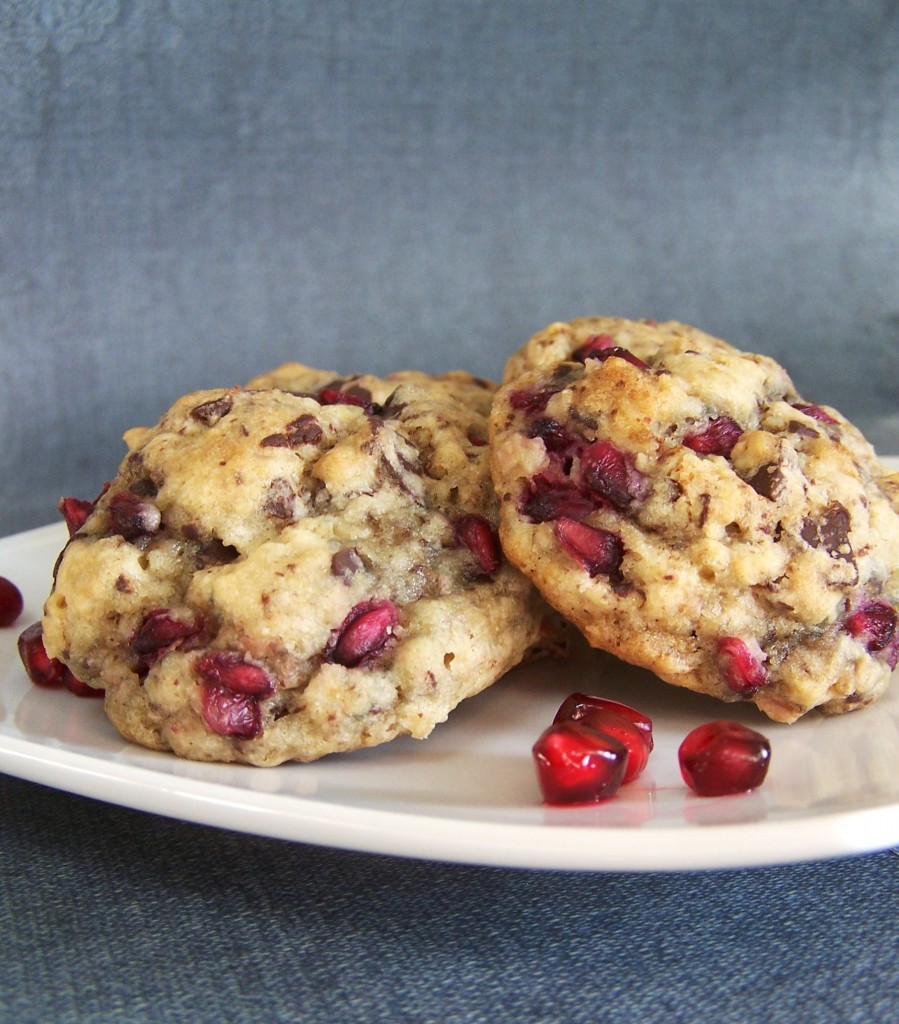 Pomegranate Chocolate Chunk Oatmeal Cookies
1/2 cup butter, room temperature
1/2 cup brown sugar, lightly packed
1/2 cup granulated sugar
1 egg
1 tsp vanilla extract
1 1/4 cups all-purpose flour
1 cup quick cooking oats
1/2 tsp baking powder
1/2 tsp baking soda
1/4 tsp salt
1 cup chocolate chunks (semi-sweet or dark; about 4 oz chopped chocolate/4 sqaures of baking chocolate)
1 cup pomegranate arils (about 1 pomegranate)
Directions:
Preheat oven to 375. Line a large baking sheet with parchment paper and set aside.
Cream butter and sugars until smooth. Add egg and vanilla extract and mix well.
In a separate bowl, whisk together flour, oats, baking powder, baking soda, and salt. Slowly add dry ingredients to butter mixture, mixing just until incorporated. Stir in chocolate chunks, then gently stir in pomegranate arils.
Drop dough by tablespoonfuls onto lined baking sheet about 2 inches apart. Bake for 12-13 minutes, until golden brown. Let cool on baking sheet for a couple minutes before removing to racks to cool completely.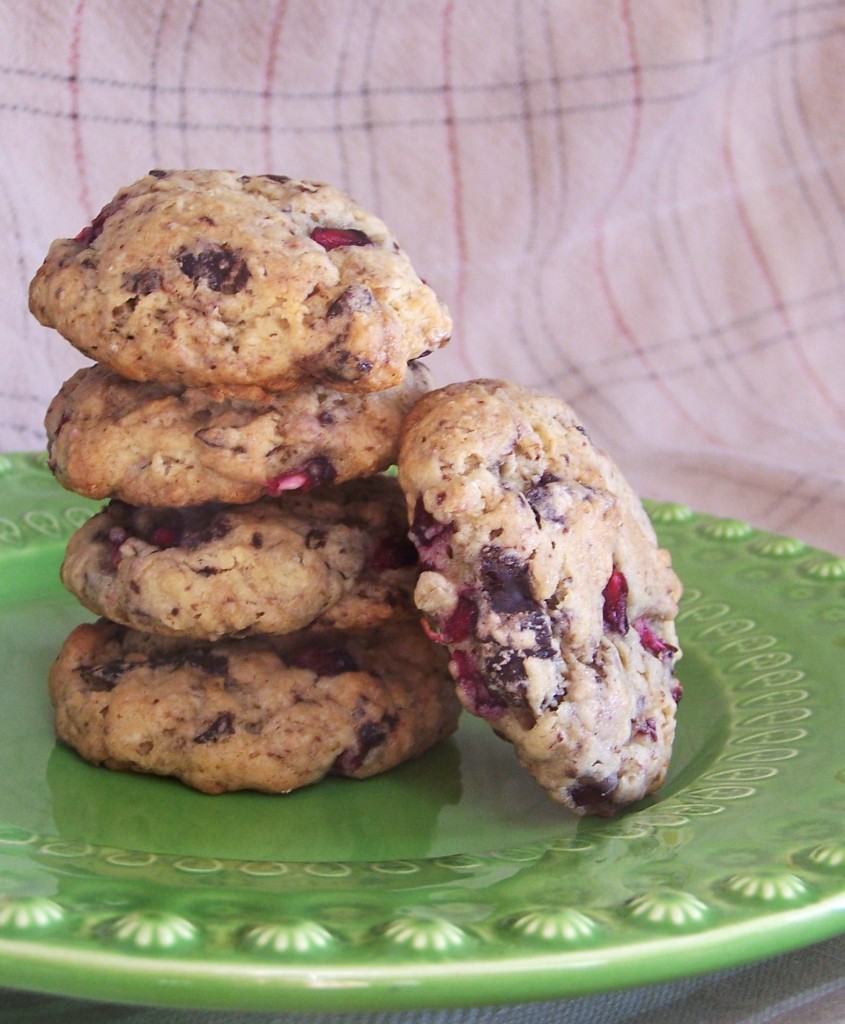 Enjoy!
Trending Now
More Like This
Recent Posts
by hiddenponies
All the goodness of a whole grain cracker baked into a crunchy little chip, Pepperidge Farm® Cracker Chips are one tasty combination! We asked our bloggers to try their favorite flavor of Pepperidge Farm® Cracker Chips. Visit each of their blogs to read how you too can fit Cracker Chips into your own snacking routine.
Read more
Recent Comments
on Baking