Potato Chip Cookies!
Getting my daily "Google Blog Alerts" about potato chips, this awesome blog popped up: Palate-to-Pen
Today she is featuring a recipe from Baking Unplugged called "Potato Chip Cookies" and they look absolutely delicious! I'm going to bake some tonight!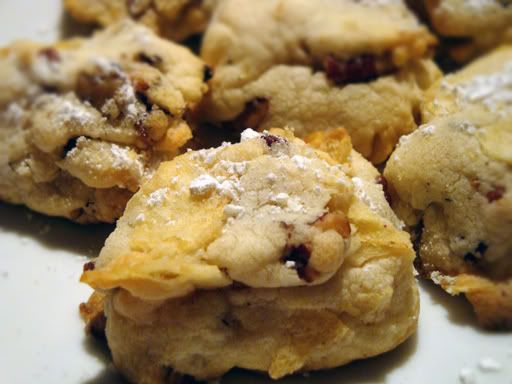 Here is the recipe excerpt:
Potato Chip Cookies
Makes 2 1/2 to 3-dozen cookies.
1 C. unsalted butter, soft
1 C. powdered sugar
1 large egg yolk
1 tsp. vanilla extract
1/2 tsp. salt
1 1/2 C. all-purpose flour
3/4 C. finely chopped toasted pecans
3/4 C. crushed potato chips
Preheat the oven to 350°F. In a large bowl, beat the butter and
powdered sugar until fluffy with no lumps, 1 to 2 minutes. Stir in the
egg yolk, vanilla, and salt until the dough is smooth and creamy. Stir
in the flour until almost combined. Stir in the pecans until evenly
distributed, and then very gently stir in the crushed potato chips.
Line baking sheets with parchment paper and drop dough by the
tablespoon onto the baking sheets, spacing at least 11/2″ apart. Bake
the cookies for 11 to 13 minutes, until golden on the edges and set in
the middle. Let the cookies cool on the baking sheets for 3 minutes
before transferring to wire racks to cool completely.
Related Posts
More Like This
Recent Posts
by chipdipper
Our bloggers are great fans of American Idol from way back when the show aired 14 seasons ago! Well just so you know, it just started! Watch American Idol every Wednesday and Thursday 8/7 on Fox.
Read more