If you've been reading my posts about moving from New York to Colorado (here is Part 1 and Part 2), you know that Atlas Van Lines still has all of our belongings. We are hopeful that they will arrive tomorrow. I only packed a few cooking utensils to take in the car cross-country: my small pressure cooker, a cutting board and small knife, a small mixing bowl and spoon, tongs, a small colander, a corkscrew, a french press, and plastic plates/bowls/cups + utensils for two. On the day we arrived in Colorado we made a quick run to Target to pick up things like towels, bath soap, cleaning products, etc. I also picked up a measuring cup, a id="mce_marker" can opener, and plastic containers to store food. I figured that could round-out my kitchen supplies for a week.
On Friday evening I made my first home-cooked meal. I pulled out the pressure cooker and did some math. Why? It turns out you need to add 5% cooking time for every 1000 feet of elevation over 2000 elevation, so, at 6000+ feet in Colorado Springs, I need to add 20% cooking time when using the pressure cooker. In addition to cooking at a higher altitude for the first time I was also using the pressure cooker on an electric stove for the first time - what a big change from a gas stove!
I started basic. I made brown rice.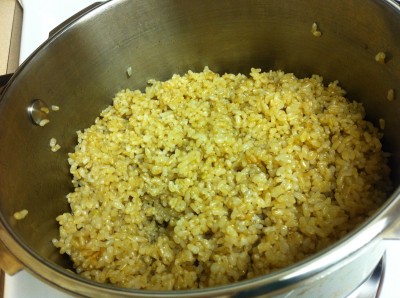 After washing the pressure cooker I put it back on the stove and pretended it was a large sauce pan, using it uncovered to make this.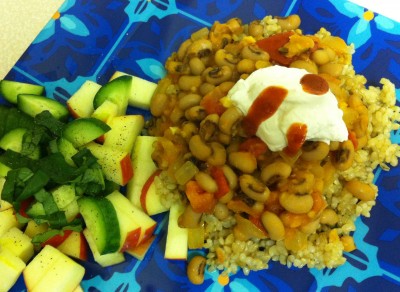 Black-eyed peas (canned) sautéed in low-sodium vegetable broth, garlic, onion, tomato, and sriracha served over brown rice and topped with vegan sour cream and Sriracha. On the side? A small cucumber, apple, and basil salad with lemon juice and black pepper.
After four days on the road eating at restaurants, grocery stores or ordering room service, this was a very exciting meal for me. It was also delicious.
The next morning I made steel-cut oats for breakfast.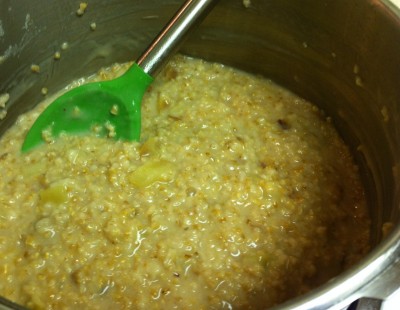 PRESSURE COOKER OATMEAL
Serves 4 [click to continue…]