Project Life Weeks 1 & 2, plus a bonus
Hello Friends!
We are having a watch and see kind of day - we will watch and see if the kids get out earlier than the early release they are already scheduled for. We will watch and see if the snow gets really bad, or if forecasters are just tricking us again. Soooo, while we wait I will post!
I decided to start this blog mainly because of Project Life. Project Life is a system of memory keeping where you do a layout basically each week, summarizing what happened for you and your family that week. Instead of doing full-size 12x12 layouts, you use divided page protectors and insert your photos and journaling cards. And of course you can embellish as much or as little as you wish. I have been wanting to try this for several years, and this is the first year I am biting the bullet and trying it. Yay me!
I am a big fan of traditional scrapbooking, vs. digital scrapbooking. Most people who know me and my style know that I love texture and depth and dimension, and while there are some amazing digital artists out there, it just doesn't compare to traditional paper + embellishments. That being said, I have been dabbling a bit in digi-layouts. One of the reasons I decided to try Project Life is because alot of PL can be done digitally, and it seems like it would go faster. So for my Project Life, I am planning to do hybrid of sorts.
As I was toying with the idea of starting PL, I played around a bit with some digital files I found here http://www.jessicasprague.com/. I think these files are moved to here http://www.acdigitals.com/ now, but basically they are the templates for PL, and the digital kits for PL. I chose the Clementine edition, which I love love for the turqouises. I also have downloaded the Seafoam (brand new this year!) edition, which is fantastic and seriously has all my favorite colors (turquoise, turquoise, oh and turquoise, too!) Anywho, I created my first digi-layout and thought I would share it with you. But first a disclaimer: I am not a digi-scrapper and do not intend for this blog to be primarily digital because I know I am no good at it! Ha! But I did want to show these because I love the products and thought you might, too.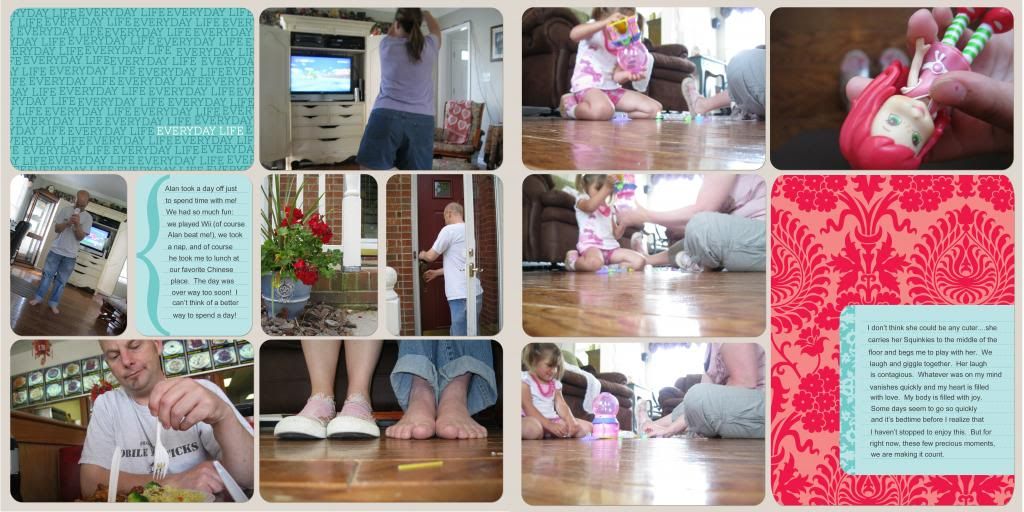 Remember my first post I warned you I like photos of shoes and feet....doncha love the spaghetti noodle in front of our feet in this one?! ha! Here is each side close-up: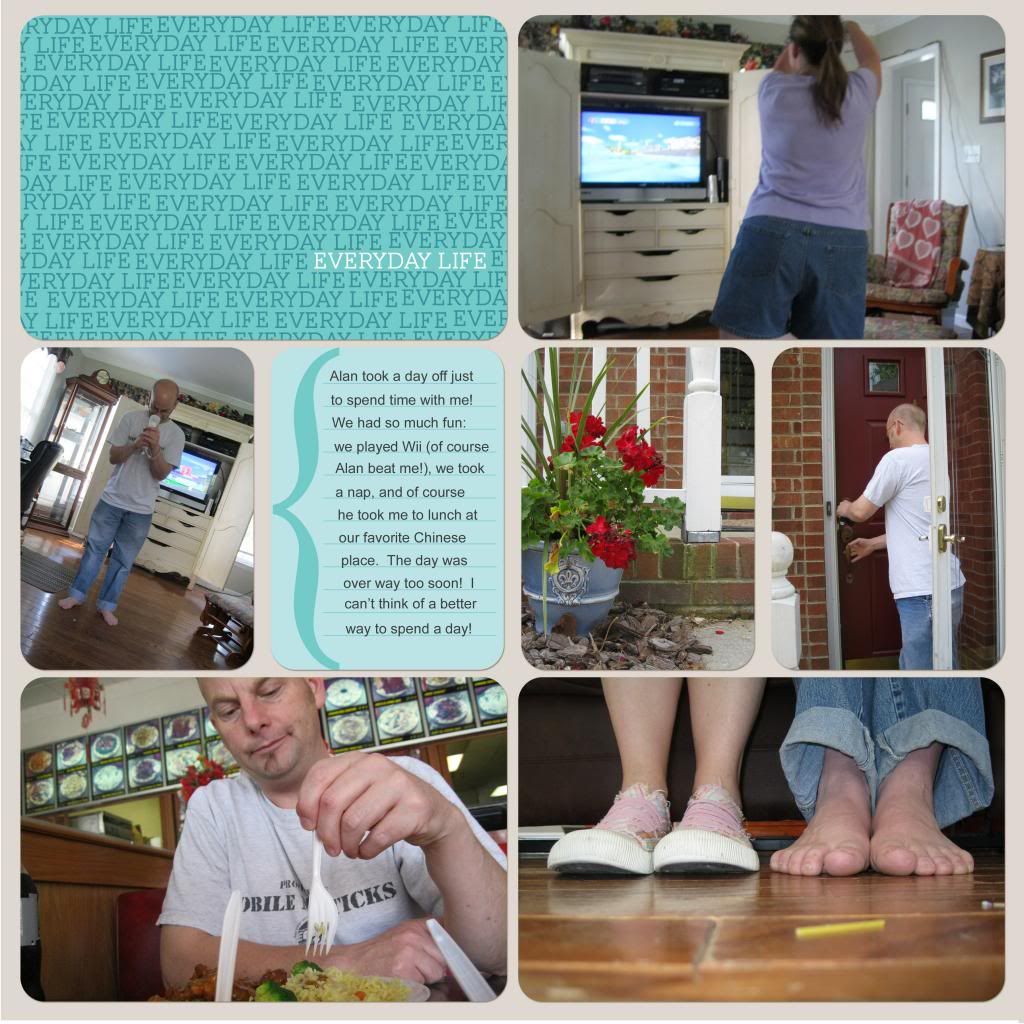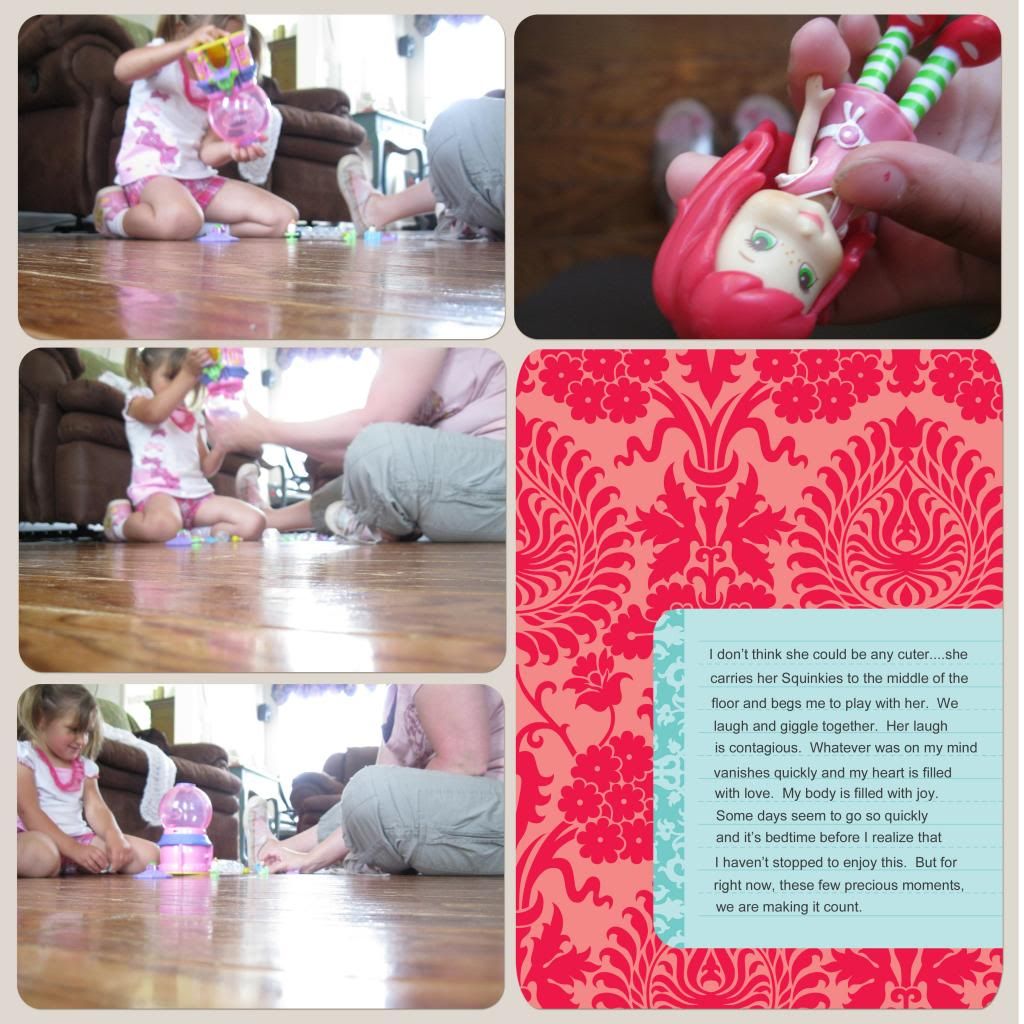 I know there is not much to this layout, but once it is printed I plan to add some dimensional embellishments, an actual title and date, etc etc. Stay tuned for that!
So after all that, here is my first PL layout. I am so excited to start this, and am pleased with what I have done so far. Today I'll post my first two, which are digital, and then over the weekend will post more which are traditional (and still being worked on!)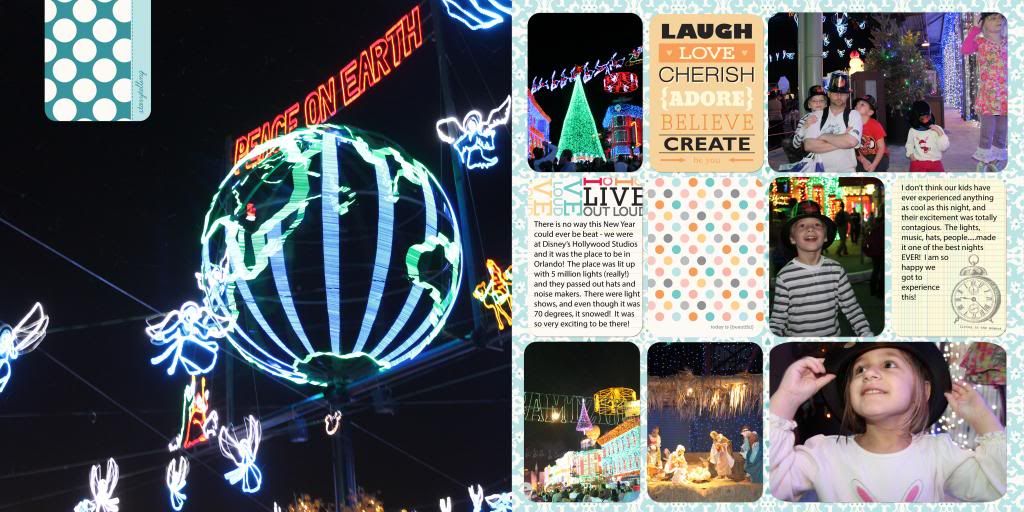 Our New Year's Eve was incredible. We had gone to Disney after Christmas, and on NYE we found ourselves at Hollywood Studios. We did not plan to be there on purpose, and hadn't even thought about what it would be like on NYE, but it was seriously one of the best times we had!!!! Hollywood Studios was the place to be that night - they had used over 5 million lights and we saw the Osborne light show. They handed out hats and noisemakers to everyone, and in true Disney style they made it snow even though it was 70 degrees out. It was fantastic! Here it is closer:
I'm so excited to be able to use one print as 12x12. Definitely one of the advantages of doing digital or hybrid layouts!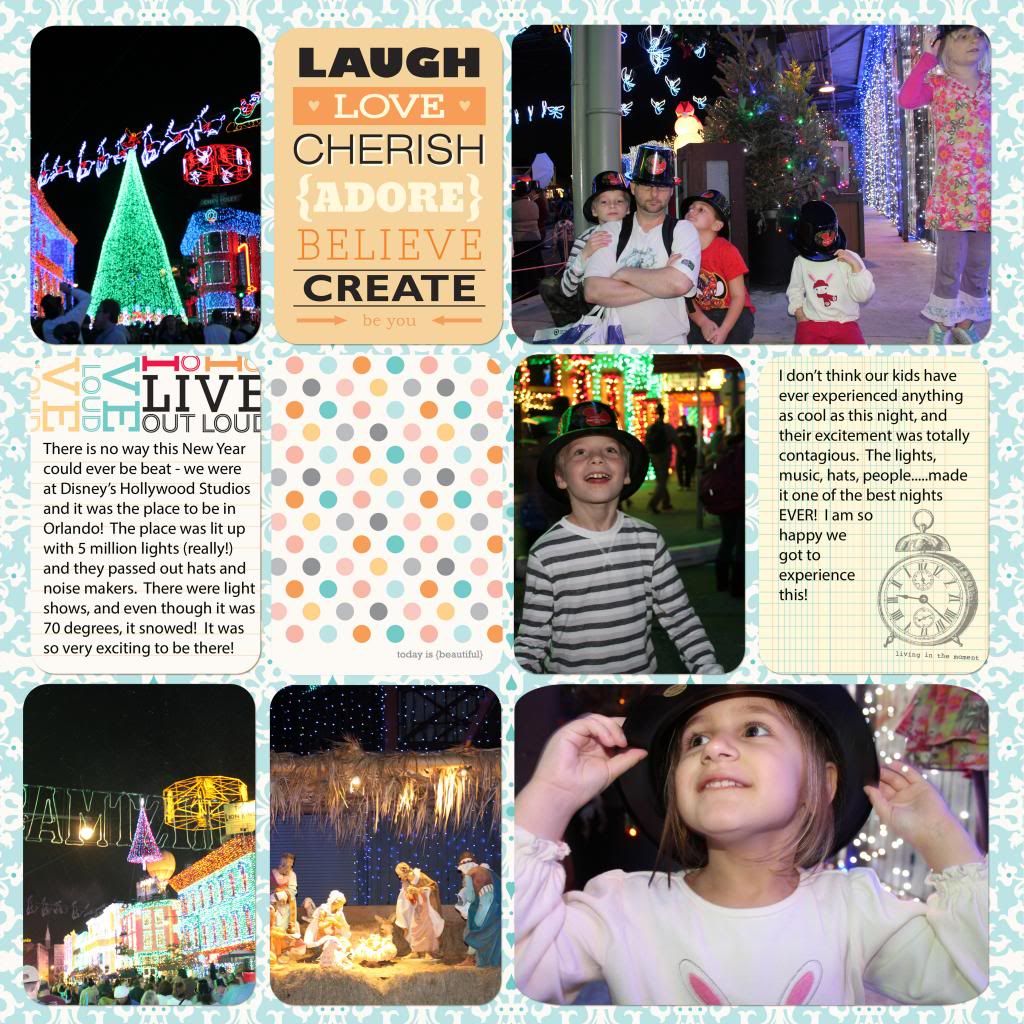 Don't you just love the expressions on the kids' faces? Way fun. What a cool night.
The next day, however, turned not so fun. The joy of scrapbooking is that you can take a not fun event and turn it into something a little humorous. That was important for us as we started the New Year out with a break-down in the middle-of-nowhere Florida, and a ten hour trip turned into 18 hours.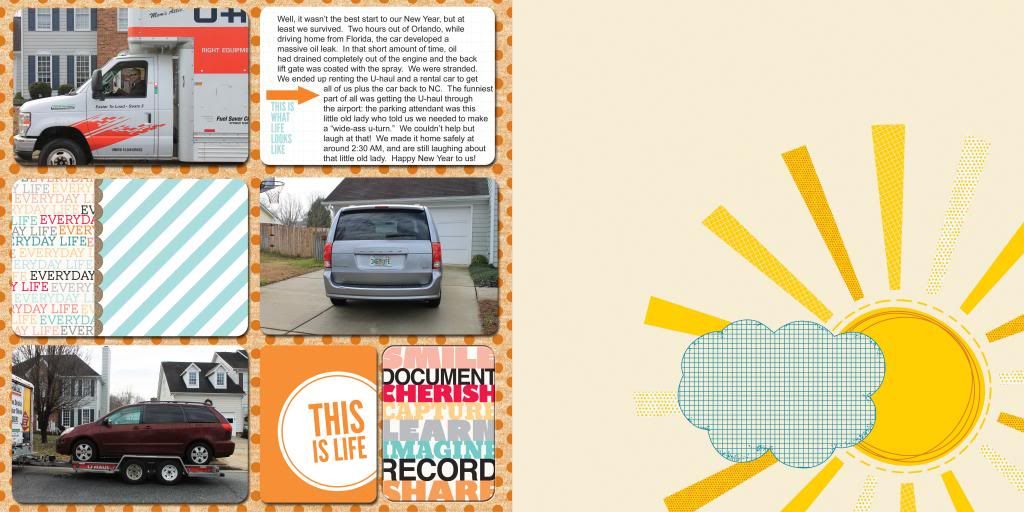 I discovered after the fact that I have that sun paper in my stash, so I decided to use the real thing instead of the digital one. Stay tuned to see what I do with it once this layout is printed out. Here is the close-up of the left side. I'm so happy for this hobby which allowed us to be reminded of the humor in this whole situation. It was an experience we will never forget!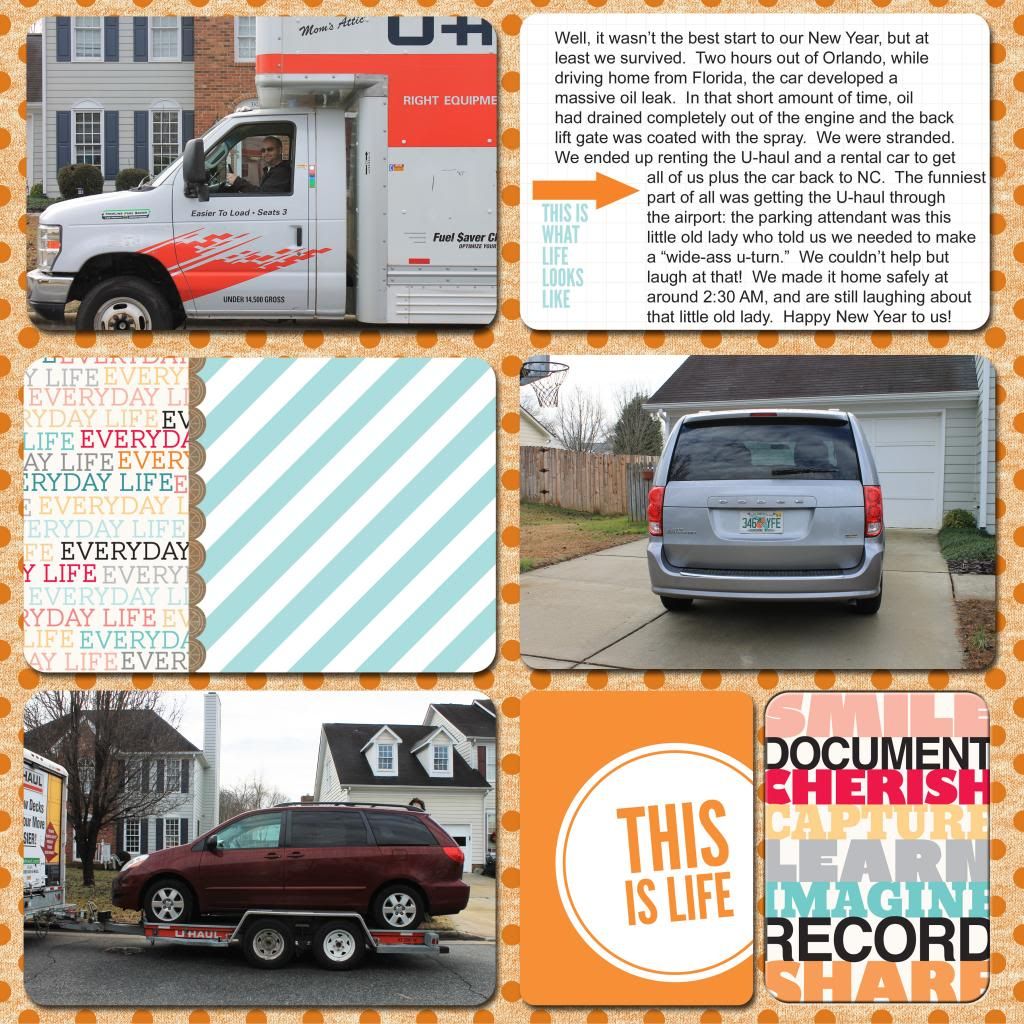 Hope you all have a fabulous snowy day. Thanks for checking all this out!
Love,
Theresa
Related Posts
More Like This
Recent Posts
by larkindesign
Johnsonville Sausages have no fillers for a juicy and firm texture. Our bloggers came up with delicious Fall Comfort Classic recipes your family will love. Re-create them at home.
Read more
Recent Comments
on Crafts