Rebelistic Quotes from the 20th Century | feat Bob Marley, Nina Simone, Nikki Giovanni, Josephine Baker & more
Rebelistic Quotes
Different people rebel against different things. Some choose to stand up and sacrifice their lives for different causes. Given the time period, the demographics, the upbringing, a person's passion can become apart of their legacy. The following, features some prominent figures and their passions that manifested and inspired movements. These quotes also manage to reveal the rebel within them as well - in the most settle and robust ways. The rebellions, whether large or small, can be considered a part of culture that was expressed in a very necessary way to approach sensitive subjects ranging from unification, equality, desegregation, anti-oppression, or just simply F R E E D O M.
Though these quotes come from a wide variety of time slots in the 20th century from an array of celebratory figures of different backgrounds and origins such as entertainers, writers, poets - their mantra is still relevant and resounds loudly in today's global environment.
Bob Marley

"I'm a rebel, soul rebel
I'm a capturer, soul adventurer
Do you hear me
I'm a rebel, rebel in the morning
Soul rebel, rebel at midday time"
"Emancipate yourselves from mental slavery.
None but ourselves can free our minds."
― Bob Marley
"The truth is, everyone is going to hurt you. You just got to find the ones worth suffering for."
― Bob Marley
"Who are you to judge the life I live?
I know I'm not perfect
-and I don't live to be-
but before you start pointing fingers...
make sure you hands are clean!"
― Bob Marley
"The good times of today are the sad thoughts of tomorrow."
― Bob Marley
Nina Simone
Photo Courtesy: Violentsuccess.com

"I'm a real rebel with a cause."
-Nina Simone
"You've got to learn to leave the table
When love's no longer being served"."
― Nina Simone
"There's no excuse for the young people not knowing who the heroes and heroines are or were."
-Nina Simone
People, let a lone, musicians don't exist like these two any more. Bob Marley inspired generations of people with his music and activism for black unification and Nina Simone was an artist that challenged the status quo of beauty through her music. These are self proclaimed rebels that lived and died for a cause in the hopes the leave an impression and change the world. Entrenched in their ancestral roots, they understood their present and prayed for a better future and put their soul into their artistry.
Maya Angelou
Photo Courtesy: Dorkmuffin.com
"I can be changed by what happens to me. But I refuse to be reduced by it."
― Maya Angelou
"Success is liking yourself, liking what you do, and liking how you do it."
― Maya Angelou
"Everything in the universe has a rhythm, everything dances. "
― Maya Angelou
"Courage: the most important of all the virtues because without courage, you can't practice any other virtue consistently."
― Maya Angelou
Nikki Giovanni
Photo Courtesy: Ironboardcollective.wordpress.com

"Mistakes are a fact of life: It is the response to the error that counts."
― Nikki Giovanni
"Deal with yourself as a individual, worthy of respect and make everyone else deal with you the same way."
― Nikki Giovanni
"Black love is black wealth"
― Nikki Giovanni
James Baldwin
Photo Courtesy: Blackhistorynow.com

"True rebels after all, are as rare as true lovers,and in both cases, to mistake a fever for passion can destroy one's life" — James Baldwin
"Love does not begin and end the way we seem to think it does. Love is a battle, love is a war; love is a growing up."
— James Baldwin
"Perhaps home is not a place but simply an irrevocable condition."
— James Baldwin
"You think your pain and your heartbreak are unprecedented in the history of the world, but then you read."
— James Baldwin
Unforgettable poets. These three are unmatched in some many layers of their being. With both Maya Angelou and Nikki Giovanni still among us, they shed life on black life and black survival that many simply ignore. James Baldwin was unique in his approaches to sexuality and religion and the black race as a whole. These three poets are definitely Rebels in multifaceted ways.
Zora Neal Hurston
Photo Courtesy: nndb.com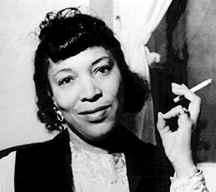 "There are years that ask questions and years that answer."
― Zora Neale Hurston
"I have known the joy and pain of friendship. I have served and been served. I have made some good enemies for which I am not a bit sorry. I have loved unselfishly, and I have fondled hatred with the red-hot tongs of Hell. That's living."
― Zora Neale Hurston
Recent Posts
by MizzRebelution