Is Red color Matching For a Kitchen?
Kitchen should be a place where you'd want to stay for hours and hours every day. But how can you do so if it's dull or falling apart? If your problem is how your kitchen looks, then the solutions are pretty easy. If your appliances and cabinets need replacing, then maybe you might think about digging on your savings to plan a complete kitchen makeover. If your problem is the former, then the simplest way to add funk and spark to your kitchen is to add the color red.

If you're thinking what? Red? Well, of course red! It may not be the color of choice for those who are traditional, but it's a modern color that will surely bring your kitchen alive. In color psychology, red is associated with invoking certain emotions from people. It can increase someone's heart rate, such as when you see a girl in a red dress or seeing your opponents in red uniform in a football match.


In the restaurant industry, it has long been known that red stimulates the appetite, that's why most restaurants use the color. Take a look at your favorite fast food chains and restaurants and notice how much red is used on everything- walls, curtains, table cloths, accents, and even the floor or the staff uniforms.

If you want your kitchen to have the same effect, then using red should definitely be in your agenda. You don't have to go all out and paint everything red - that's just too much. If you're wary about the color, try to use red on accents like your coffee maker, trays, plates, utensils, food containers, and your curtains. But if you want big changes, then you can start with your kitchen's big appliances.


A red refrigerator is a fantastic idea. Kids will definitely gravitate towards it since it's rare and adds spunk to a rather dull space. You can even use a red kitchen sink instead of ordinary stainless steel, transforming your regular sink into a modern and chic feature in your kitchen. You can repaint cabinets, change your floor to red tiles, or even repaint your ceiling. The key here is to strike a balance between red and some other color.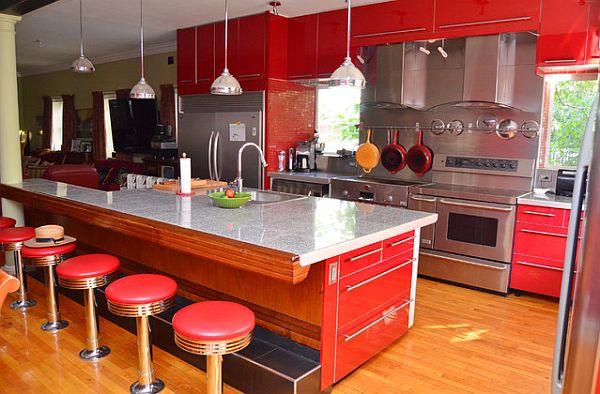 If you have a completely white kitchen, red accents on the cabinets and counter tops will add an interesting touch. A kitchen made mostly of stainless steel will definitely be toned down with red, making it less industrial but still modern and sophisticated. If you're a little traditional or old-fashioned, why not add red to warm wood tones? You can paint your cabinets red but with wooden handles, or keep a wooden counter top with red colored-chairs.

There are endless possibilities with red, making it a great color for your kitchen, not just because it's an attention-grabbing color, but because it makes you and your family come alive.
ADD A COMMENT
Recent Posts
by Mary Stedul
Most Popular
Our bloggers chose Lucky Brand for its fit, comfort and unique details and finishes. Read more on the latest styles plus get a chance to win $100.
Read more
Latest comments
Embassy Suites by Hilton is a brand within the Hilton Worldwide portfolio that promises to provide what really matters most to the savvy guest. Our bloggers took a family getaway to experience Embassy Suites by Hilton. See everything they had to say and comment for your chance to win $100!
Read more