Red Velvet Cake with Cream Cheese Frosting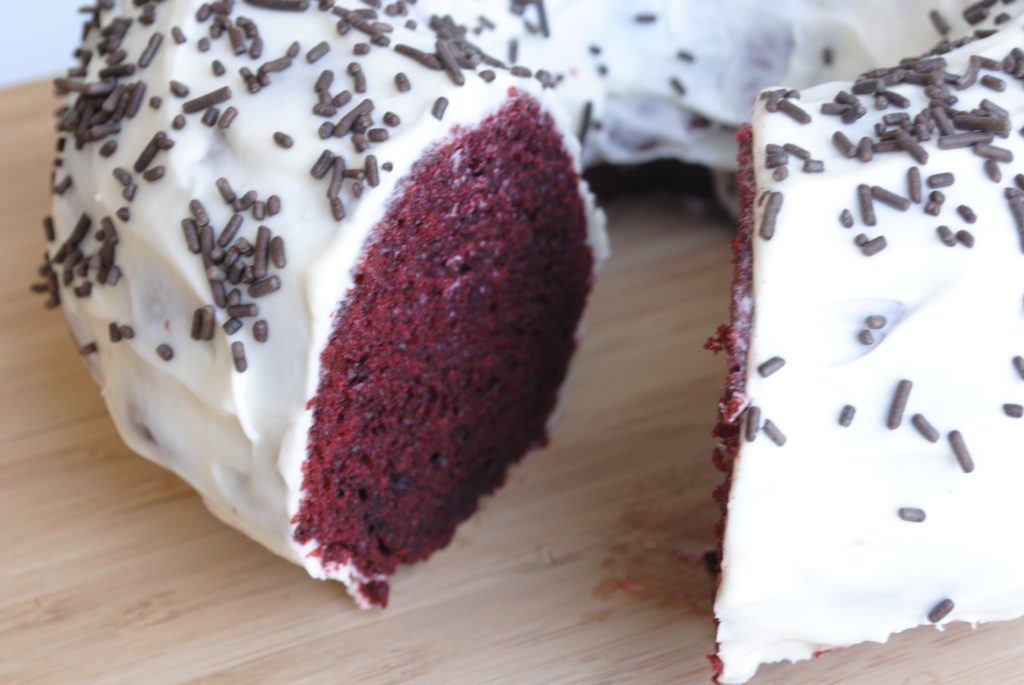 seem to be on a never-ending search to find the perfect red velvet cake recipe ever since my sister-in-law, Asunta, won our annual family bake-off with her red velvet cupcakes.
The other night, she pulled out the big red velvet guns again with a round cake, and I begged her to tell me her secrets. After joking around a lot, it appears that it boils down to this: make sure to use cake flour, extra cocoa and food coloring. The recipe is similar to Paula Deen's but these things make a big difference. I'm not thrilled about the extra food coloring part, but I figure if you're going to eat cake, a little food coloring isn't going to hurt – especially since it's not a regular part of our diets (at least I hope it isn't!)
I was really happy with the way this cake turned out, although I still think my SIL's tastes better. I will definitely make this again and probably again. : ) I brought it to work today and it got rave reviews – so I definitely recommend it based on the feedback. By the way, I doubled the recipe so I can make both a cake and cupcakes and it was perfect. I figure it's no extra effort and you can always freeze the cupcakes for another day!
Happy red velvet baking!
Total time:
1 hour 5 mins
Ingredients
2 1/2 cups cake flour (it's better with cake flour, but you can use all-purpose)
1 1/2 cups sugar
1 teaspoon baking soda
1 teaspoon salt
2 heaping tablespoons unsweetened cocoa powder
1 1/2 cups vegetable oil
1 cup buttermilk, room temperature
2 large eggs, room temperature
2 ounces red food coloring
1 teaspoon white distilled vinegar
1 teaspoon vanilla extract
For Frosting
1 package cream cheese, softened
1/2 cup whipping cream
1 teaspoon vanilla extract
4 cups sifted confectioners' sugar (more or less depending on desired consistency)
Instructions
Preheat oven to 350 degrees F and generously grease cake pan (or line muffin tins).
In medium bowl, sift flour, sugar, baking soda, cocoa and salt.
In large bowl add oil, buttermilk, vinegar, vanilla extract and beat on low with electric mixer until blended.
Slowly add dry mixture and continue to beat until batter is smooth.
Pour mixture in cake pan.
Bake for about 45 minutes until toothpick comes out dry when inserted in top, middle.
Let cool and remove from pan.
When completely cool, add frosting.
For the frosting, beat cream cheese, whipping cream, sugar and vanilla in bowl until fluffy, but a bit firm.
Frost cake and add the garnish of your choice.
Enjoy!
ADD A COMMENT
Recent Posts
by Garlic_Girl
Most Popular
Chateau Ste. Michelle ALWAYS delivers remarkable wine experiences. We asked our bloggers to try Chateau Ste. Michelle wine and share the story behind their perfect sip. Read their reviews plus get a chance to win $100!
Read more
The enamel of baby teeth and new adult teeth is vulnerable to damage. Help protect your child's teeth for years to come by using ProNamel 6-12 Years Toothpaste. Read our bloggers' posts and see you should start your kids with using ProNamel 6-12 Years Toothpaste plus get a chance to win $100!
Read more