Red, White, and Blue Potato Salad from Recipe Girl
BlogHer Original Post
Since this edition of Meatless Mondays falls on a patriotic holiday for those in the U.S., I thought I'd share a meatless recipe that would be perfect for celebrating the day. Potato Salad is a classic American picnic food, and what's more perfect for the Fourth of July than this Red, White, and Blue Potato Salad from Recipe Girl?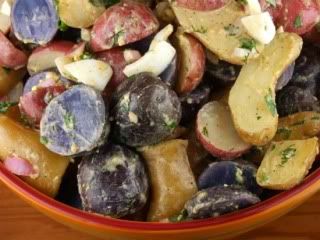 Photo of Red, White, and Blue Potato Salad
from Recipe Girl
Get the recipe for Red, White, and Blue Potato Salad from RecipeGirl.com.
Have you made something interesting for Meatless Monday this week? If so please share the recipe link or your recipe in the comments. You can find more Meatless Monday recipes by clicking the tag Meatless Mondays
BlogHer Contributing Editor Kalyn Denny also blogs at Kalyn's Kitchen, where she specializes in low-glycemic recipes using fresh ingredients. Kalyn probably won't ever be a vegetarian, but she does love to make meatless dishes such as Vegan Tomato Salad with Cucumber, Avocado, Cilantro, and Lime.
Recent Posts
by Kalyn Denny
Hearing your baby laugh is the most amazing sound. Discover why baby laughter is so important, your baby's own Baby Laugh Index™, and much more at www.babylaughindex.com.BlogHer and Bright Starts™ asked 10 bloggers to share what kind of laugh their kids have and to try out one of these fun toys: the Jungle Fun Ball Climber™, the Hide 'n Spin Monkey™, or the 3-in-1 Step 'n Ride Lion™ . Check out their posts and learn how you could win one too!
Read more
Recent Comments
on Recipes