Red, White, and Blue Potato Salad from Recipe Girl
Since this edition of Meatless Mondays falls on a patriotic holiday for those in the U.S., I thought I'd share a meatless recipe that would be perfect for celebrating the day. Potato Salad is a classic American picnic food, and what's more perfect for the Fourth of July than this Red, White, and Blue Potato Salad from Recipe Girl?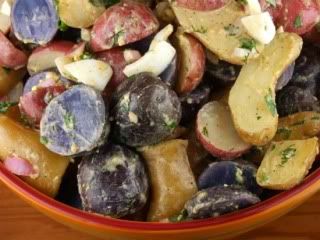 Photo of Red, White, and Blue Potato Salad
from Recipe Girl
Get the recipe for Red, White, and Blue Potato Salad from RecipeGirl.com.
Have you made something interesting for Meatless Monday this week? If so please share the recipe link or your recipe in the comments. You can find more Meatless Monday recipes by clicking the tag Meatless Mondays
BlogHer Contributing Editor Kalyn Denny also blogs at Kalyn's Kitchen, where she specializes in low-glycemic recipes using fresh ingredients. Kalyn probably won't ever be a vegetarian, but she does love to make meatless dishes such as Vegan Tomato Salad with Cucumber, Avocado, Cilantro, and Lime.
COMMENTS
Recent Posts
by Kalyn Denny
Most Popular
We asked our bloggers to craft some recipes from the different Success® Rice flavors and tell us about it. Check out their ideas and you could win a $100 Visa gift card!
Read more
Lean Pockets have no artificial flavors, a good source of protein & have 100% real cheese. Read our bloggers posts where they will tell you their guilt free experiences with Lean Pockets. Plus get a chance to win $100!
Read more