Rescue Me…from Being a Panty-"Waste"
Okay, I'm just going to write this: I need panty help.
I'm admitting this fact and owning it completely. After all, that's the first step, right?
And I don't just need a little help. I'm 47 years old and I need a panty-makeover.
Allow me to demonstrate the severity of this problem:
1) I avoid purchasing panties for longer than I should, so much so that most of my inventory has been laundered to the "swiss-cheese" stage of hole-y-ness.
2) I then go to a department store, wander aimlessly around in circles until I reach my frustration threshold, then grab 6, 8 or 10 pair of the first brand I see in order to escape with something to wear the following day.
3) I also have over-compensation panty issues. When my husband says something like, "Kelly, next time could you crank up the sexy factor a bit? Those 100% lilac colored Jockey hipsters are saggy in the back-ie"…well, then I make truly honest, but horrendous mistakes.
I'll come home with 100% silk, platinum colored thong-style torture apparati. The situation is not pretty. Well, it might be a little pretty, but it's WAY not comfortable.
So then, of course, I follow that visit by running to the store and overstocking on comfy cottons (read: granny-panties) so I can have something wearable for work. The cycle is way past "vicious." It's visceral.
4) And finally, even when I think I've mericifully found THE panties, I then proceed to go back and buy ten pair so I'll-never-run-out-and-always-remember-the-name. Unfortunately, THE panties usually end up being the kind like I have now. I have no shame any more. I'm going to SHOW you what they're doing...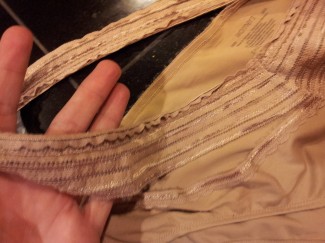 I bought TEN pair of these, they're only sixty days old, and already three of them have a waistband that's nearly separated from itself. In other words, I'm birthing waistband twins.
I don't WANT waistband twins. I just want good panties.
So…I'm back to my thesis. I need help, and I need it now. My standards are simple:
1) Nice, snug fit; 2) Slightly sexy so I feel happy and my hubby does too; and, 3) Durable.
That's it. A tripartite criteria for my perfect derriere coverage needs. I'm begging for your expertise. So, can you help me solve my panty problem?
It would be awesome if you would.
***
Find me at the Red Dirt Chronicles...
Best, Red Dirt Kelly
More Like This
Recent Posts
by Red Dirt Kelly
All the goodness of a whole grain cracker baked into a crunchy little chip, Pepperidge Farm® Cracker Chips are one tasty combination! We asked our bloggers to try their favorite flavor of Pepperidge Farm® Cracker Chips. Visit each of their blogs to read how you too can fit Cracker Chips into your own snacking routine.
Read more
Prevage Reviews & Sweepstakes
Our bloggers share how PREVAGE® Anti-aging Daily Serum differs from other products they've tried PLUS a chance to win $100.