Right-handed wite-out?
So I was doing a bit of organizing the other day and needed to use some wite-out. I was re-using a label for a file folder (because it's good to recycle and I need to do a Staples run). All I needed to do was white out the previous writing on the label. Pretty simple.
I went into my little box of random office supplies and pulled out the only apparent white out apparatus that I had. This correction tape, which I can only assume came from my husband's stash of office supplies, is what I found.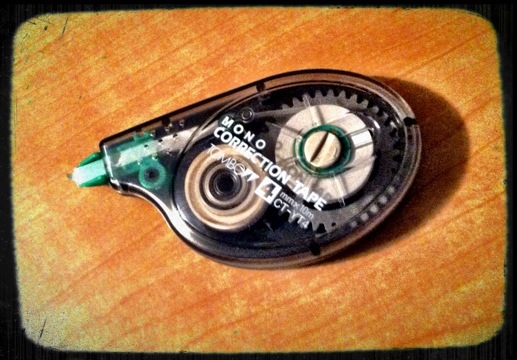 The problem with this correction tape is that it is not meant for left-handed people...Read the rest of this post on anotherjennifer.com

Related Posts
More Like This
Recent Posts
by anotherjennifer
Help make sure that your little one develops and thrives in a baby-safe world. Our bloggers are doing just that by using Babyganics products. Read their posts to know why they love Babyganics and enter for a chance to win $100!
Read more
Most Popular
on Work/Life