Rosemary Bread Recipe + A Grilled Seitan and Daiya Cheese Sandwich
As you can probably tell, I was busy in the kitchen Sunday. I made raw crackers, chickpeas (with curry and cinnamon!) and porridge.
I even made a loaf of bread!
Rosemary Bread
by JL goes Vegan
Keywords: bread maker, bread, vegan
Makes 1 large (2 lb) loaf
Ingredients
1.5 cups warm water
4 T avocado oil
1.5 t iodized sea salt
4 cups flour (I used 1 + 3/4 cup better for bread flour, 1/4 cup vital wheat gluten, 1 cup barley flour and 1 cup organic all-purpose flour)
3 t dried roesemary (whole, crushed with fingers)
2 + 1/4 t active dry yeast
Black sesame seeds
Instructions
Add first six ingredients, in order, to the bread machine.
Select large (2 lb) white loaf on the machine.
Add black sesame seeds during the mix-in phase (or, if you can do a better job than I did, try to press black sesame seeds into the top of the loaf after the final rise and before baking commences; it didn't work so well for me!)
Once complete, allow to cool completely on a baking rack.
Adding the black sesame seeds was a bit of a fail. Not the flavor, it was a great addition; it was the timing. I should have tossed them in the bread machine during the mix-in stage, instead of trying to press them on the top when the baking phase began. Oh well!
The bread rose beautifully (adding vital wheat gluten really helps). My husband said "that's the tallest, proudest loaf of bread you've made so far!" Agreed! The crust is, well, super-crusty! And the bread is soft. I absolutely loved it.
As I'm sure is clear by now, I only make bread in the bread machine. Readers, if you are a traditional bread maker, can you offer your opinion on how to bake this bread in the comments below?
The rosemary bread is delicious simply as toast but Tuesday at work I started thinking about the perfect dinner sandwich. The previous night I had steamed leftover seitan. The only seitan I make is Elise's super-simple log seitan recipe. I made a log months ago but froze half. The other day I thawed it and marinated it in veggie stock all day. That night I sliced the seitan and steamed it (in the veggie stock marinade) with onions for about 30 minutes. So moist! I served it with roasted brussels sprouts (tossed in olive oil, sea salt and red pepper flakes).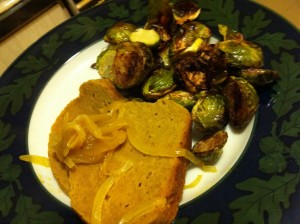 Leftover seitan led to the vision behind this Grilled Seitan and Daiya Cheese Sandwich.
1. I buttered (earth balance) two slices of Rosemary Bread.
2. I placed one slice, buttered side down, on the skillet. First I added a layer of Daiya Mozzarella Cheese, then the sliced seitan plus sliced tomato and another layer of cheese; I placed the other piece of bread on top, butter side up.
3. I cooked in a skillet, on medium-high heat, for about 3 minutes on each side, covered because I wanted the goodies inside to get nice and hot.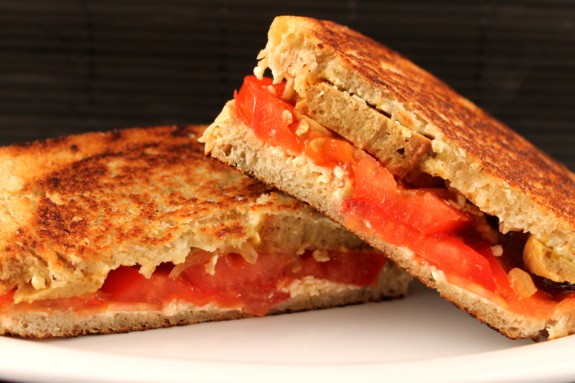 Don't you love it when you have a dinner idea and it tastes just as amazing as you think it will?
JL writes the blog JL goes Vegan: Food & Fitness with a side of Kale and is writer/editor of Stop Chasing Skinny.
Related Posts
More Like This
Recent Posts
by JL Fields
philosophy celebrates the beauty of the human spirit. see how our bloggers make time for themselves and how they use philosophy skin care in their daily routine.
Read more