Salsa, yummy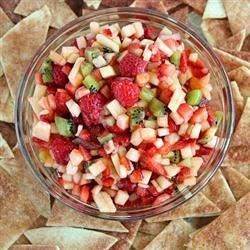 makes

10 servings
2kiwis, peeled and diced
2Golden Delicious apples - peeled, cored and diced
8 ouncesraspberries
1 poundstrawberries
2 tablespoonsSPLENDA® No Calorie Sweetener, Granulated
1/2 tablespoonSPLENDA® Brown Sugar Blend
3 tablespoonsfruit preserves, any flavor
10 (10 inch)flour tortillas
butter flavored cooking spray
1 cupSPLENDA® No Calorie Sweetener, Granulated
2 teaspoonsground cinnamon
Directions
In a large bowl, thoroughly mix kiwis, Golden Delicious apples, raspberries, strawberries, SPLENDA® Granulated Sweetener, SPLENDA® Brown Sugar Blend and fruit preserves. Cover and chill in the refrigerator at least 15 minutes.

Preheat oven to 350 degrees F (175 degrees C).

Coat one side of each flour tortilla with butter flavored cooking spray. Cut into wedges and arrange in a single layer on a large baking sheet. Sprinkle wedges with desired amount of cinnamon mixture. Spray again with cooking spray.

Bake in the preheated oven 8 to 10 minutes. Repeat with any remaining tortilla wedges. Allow to cool approximately 15 minutes. Serve with chilled

fruit.
Related Posts
More Like This
Recent Posts
by Dirt road recipes
Hearing your baby laugh is the most amazing sound. Discover why baby laughter is so important, your baby's own Baby Laugh Index™, and much more at www.babylaughindex.com.BlogHer and Bright Starts™ asked 10 bloggers to share what kind of laugh their kids have and to try out one of these fun toys: the Jungle Fun Ball Climber™, the Hide 'n Spin Monkey™, or the 3-in-1 Step 'n Ride Lion™ . Check out their posts and learn how you could win one too!
Read more
Dixie Ultra Moments® Reviews
Celebrate Life's Special Moments with Dixie Ultra Moments®. They're strong enough to hold up to any gathering or party. Go ahead. Celebrate with style and strength!