Scrambled Egg Whites with Ham, Vegetables, and Mozzarella
Breakfast was for dinner tonight with Scrambled Egg Whites with Ham, Vegetables, and Mozzarella. Eggs aren't just for breakfast anymore because more and more families will have eggs, pancakes, or waffles for dinner these days, especially if they're busy or have leftovers they want to use up creatively. When families bake ham for dinner, they usually have plenty of leftover ham to use in various dishes or soups. They will sometimes freeze some of it as well. We did this, and tonight, we decided to use the smaller leftover pieces in scrambled egg whites for dinner.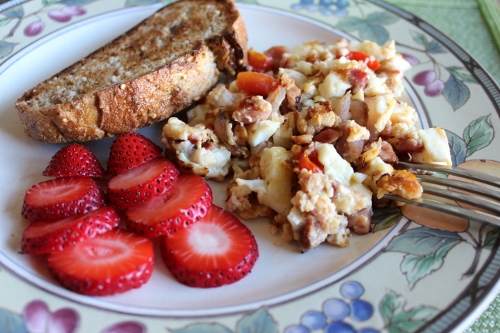 Imagery: Courtesy of Jodee Weiland
Normally, baked hams are cut in slices, but when slicing the ham, especially a ham on the bone, there will always be some chunky smaller pieces. These are the pieces that are great for chopping into small pieces to use in egg dishes or soups.
Read more at Learn from yesterday, live for today...
Comments
More Like This
Recent Posts
by Jodee Weiland
Resolve® Gold In-Wash Stain Remover is so powerful that it removes some stains in just 30 seconds! We asked our bloggers to give the new Resolve® Gold line of products a try and share their best stain removal tips. Check out their blog posts and learn how you can enter to win a $5,000 shopping spree! Plus, weekly prizes valued at $250!
Read more
Success Rice Farms Reviews & Giveaways
Success® Rice is the ORIGINAL no mess, no measure boil-in-bag rice that cooks perfectly every time and is ready in 10 minutes. Read our bloggers' posts and see how they make hearty meals by adding Success® Rice into their favorite recipes plus get a chance to win $100.