Seven Layer Tostadas from Kalyn's Kitchen
BlogHer Original Post
This recipe for Seven Layer Tostadas may be my favorite of all the meatless dishes I've ever posted on my blog. The idea came from my love for Seven Layer Dip, something that always shows up every time my family has a party. One day I thought to myself, "Why couldn't you use those same ingredients on a tostada?" and that's how this recipe was born.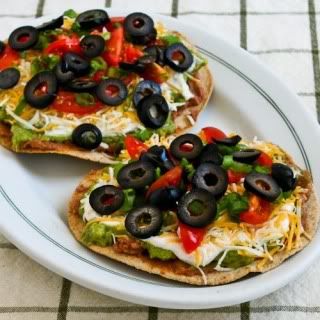 Photo of Seven Layer Tostadas
from Kalyn's Kitchen
Get the recipe for
Seven Layer Tostadas
from
Kalyn's Kitchen
.
Have you made something interesting for Meatless Monday this week? If so please share the recipe link or your recipe in the comments. You can find more Meatless Monday recipes by clicking the tag Meatless Mondays
BlogHer Contributing Editor Kalyn Denny also blogs at Kalyn's Kitchen, where she specializes in low-glycemic recipes using fresh ingredients. Kalyn probably won't ever be a vegetarian, but she does love to make meatless dishes such as this one.
Recent Posts
by Kalyn Denny
We asked our bloggers to share their tips for staying confident even when having a cold sore. Check out their posts and learn how you could win a $100!
Read more
Mornings with Jimmy Dean
Busy Moms start their day right with Jimmy Dean breakfast sandwiches for their families. Read our bloggers' reviews and get a chance to win $100!