Shared Girls Room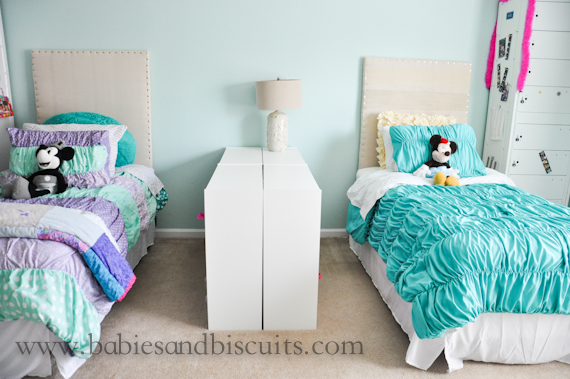 I have been literally obsessed with finishing the girls' new room, and honestly it isn't really finished yet. There are a few things to tweak here and there and paint. There are also a few DIY projects that still need to be done, but don't worry! I will definitely share them once they have been completed.
The girls' new room is our old bonus/playroom that never got played in! Doesn't that irritate you? Well, it DID irritate me! LOL!
What to do?
Answer: MOVE THE GIRLS UP THERE!
I need to back track a little though and let you know why I decided to move the girls upstairs. First, like I said, the room never got used even though we had tons of toys to play with up there. Our home's lay out is to where the downstairs is our main living space and everything upstairs was considered (for us) bonus. One big bonus room, a bathroom, and another bedroom.
The girls shared one of the downstairs bedrooms and a king bed and were still fighting ALLLLLLLL the time! "She touched me! She looked at me! She FARTED on me! " You know, the usual stuff.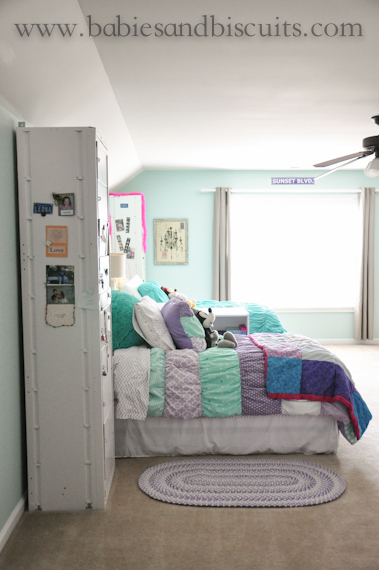 Then, one day, I just looked at my husband with those " I have an idea" looks. After I chased him down into the other room and made him listen to me, I told him I thought we should move the girls to the bonus room and maybe their own space would make things better.
So far, so good! I am really happy with how it turned out. A friend of mine said that it reminded her of a cool dorm room.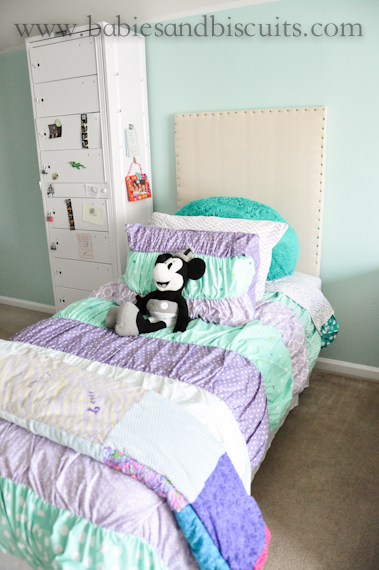 I knew that if I wanted to make this happen, it was going to have to be on a tight budget. Other than the beds, I didn't want to have to spend much. I kind of had no way around purchasing the beds. I did, however, go to Walmart to buy the twin beds/box springs which I felt would be the cheapest alternative.(*around $300/each bed) The metal frames were universal ones that I picked up at Sam's Club. ($38 each)
The hilarious thing is that they are happier with smaller beds. They went from sharing a King, down to a twin bed. I think something can definitely be said though for having your own space……. and not being farted on….. right? Sorry!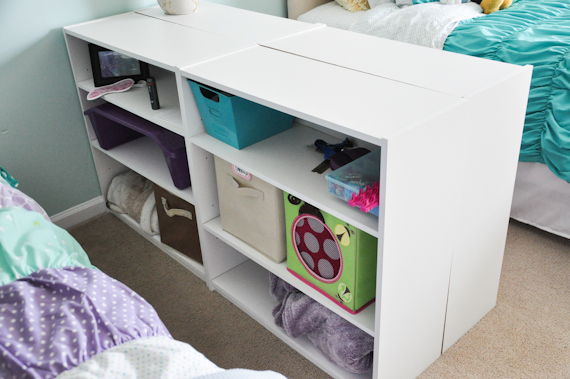 I wanted to visually divide the room to allow them to have their "own sides". I already had these toy shelves in the room and decided to arrange them in a way that they both could have their own things stored on each side. It is basically 4 of the units that I picked up at Walmart for $17 each with fabric containers picked up at Target a while back.
This is one of the projects that still needs tweaking. My idea is to attach them with screws and put molding around the creases with maybe a top to match their desk tops. This way, the piece will look more like one piece, instead of 4.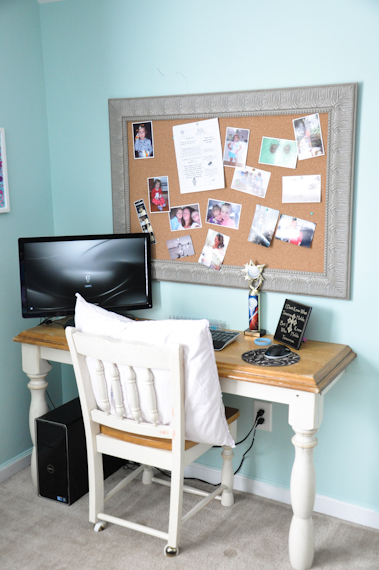 Next off, the DESKS! I am extremely proud of these desks and I'll tell you why. They cost me a total of $ 4 . 00 !!!! No, that wasn't a typo!
Let me explain:
I actually took an old dining table that I had on my back porch (that I wanted to move) and cut it down (since it was a pub table), along with the chairs and attached it to the wall to make their desks. The only thing I had to pay for were the roller casters on the back legs, which I scored at Ollies for $ 4.00.
I had looked and looked on Pinterest for all sorts of ideas. I found some great ones, but they all were going to cost around $300 to $400 to complete, which definitely would have had to wait a while. *Remember the tight budget?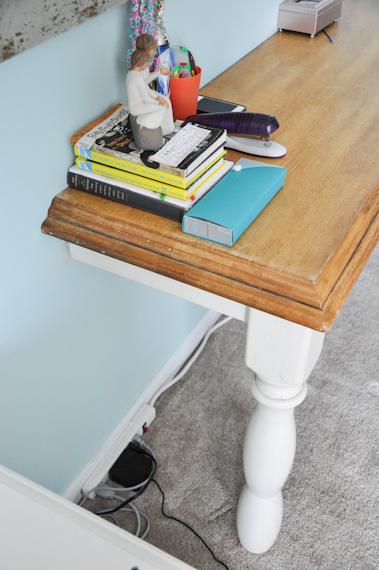 If you look closely, you can see that one end looks like it is coming out of the wall and only has 2 legs.
That is because of this: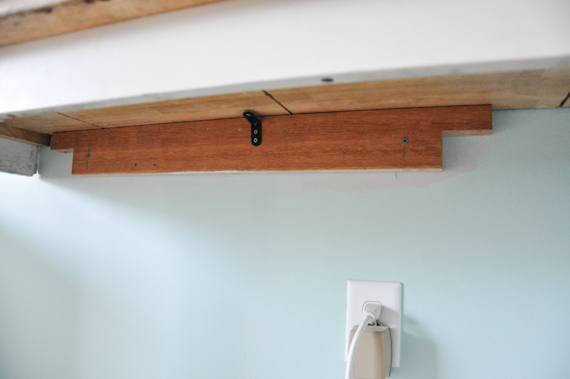 I thought I was going to have to buy wood from the store to do this, but instead, we were able to reuse pieces from the original table! SCORE!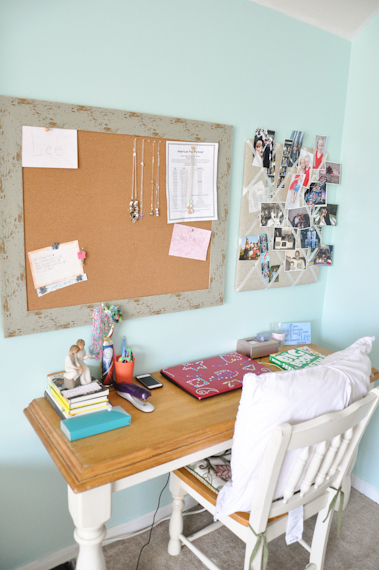 To let the girls personalize their own space, I generously gave up a few of my bulletin boards from my office I bought at Homegoods a while back.
Comments
More Like This
Recent Posts
by Babies and Biscuits
Our bloggers use the new ARM & HAMMER™ Truly Radiant™ Collection for a radiant smile. Read their posts where they share a few of their real-life experiences and advice on how to feel radiant day-in and day-out. Plus get a chance to win a $100!
Read more
Most Popular
on Home & Garden
Recent Comments
on Home & Garden