Skate this, Crazy Eyeris!
You meet the nicest people on BlogHer.
Interacting as we do, Chattering back and forth across the virual back fence, we learn much about life and each other. Meeting for coffee, or other beverages way before 5 o'clock, secrets flow out into cyberspace and find a home with real eyes, listening ears and open hearts.
That's how I learned about the new women's skating craze, Roller Derby.
Testudo, the University of Maryland Diamondback Terrapin
mascot, says Portlandia is alive and well in College Park.
Today I went over to the University of Maryland and found an annex to Portland, Oregon, reminiscent of the new comedy show, Portlandia. Like Sue in the video from the Sunbonnet Smart post on Surprise Birthday Parties, I was SO EXCITED! Looking around at class change when students are rushing to get from their last class to their next class, I saw pretty girls in big black glasses, flannel shirts that still look fly, clowns and the Dream of the 90s being alive and well in College Park. Chalk one up for the East Coast!
Probably because of the 50° weather, right on the mall in front of the Administration Building I was able to see many free spirits. I saw men wearing athletic shorts made of the Maryland State flag and throwing Frisbees. Up near McKeldin Library, I witnessed students setting up waist high tightropes between trees, getting on them while kneeling to balance, then raising up to a standing position to walk back and forth. H-m-m-m, don't see THAT everyday. It was my own little slice of innovative youth and zest for living.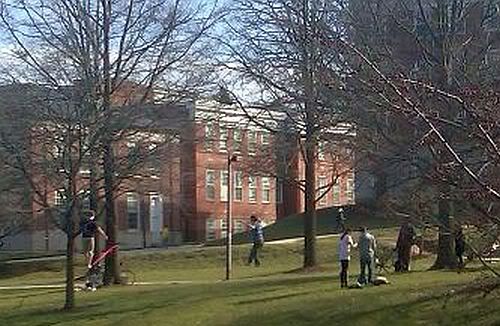 On a spring day in February, University of Maryland, College
Park, tightrope walkers appear to hover above the ground.
Things were going pretty well as we went to the Student Union Co-op to get healthy organic food and deepen our Portlandia visuals. Tattoos, piercings, wild leggings, torn clothing and dreadlocks greeted us as we got close to the Co-op. It was a wonderful feast of individuality, except that in being individual in the same way, most of the students looked pretty much alike. I am still working on analyzing this paradoxical quandary.
So, there we were in the Co-op waiting for handmade Indian Samosas, carrying them to the cashier and checking out, when I saw it: a box of free handouts on the counter
Free handouts! I LOVE free information and in flipping through these handouts I was seeing fliers for musical groups, massage therapy and...WAIT A MINUTE!...What is THIS!?!?!? A green and red postcard with the words ROLLER DERBY on it!?!?!?

A postcard from check-out tells the RollerGirl's tale.
So unusual! And then I notice the "Fra-gi-le" Lamp from the movie A Christmas Story with a roller skate on it. And look, the words "Flat Track." Oh no! For Heaven's sake! This looks like that Roller Derby stuff that BlogHer blogger Laine is always writing about.
My eyes widened as I took in the card, right there on the front was a snappy logo saying "RollerGirls" with the Washington family coat of arms flippantly placed on her cheek. In fact, cheeky is how she looks and how she gives us the "come-on" to meet her at the flat track referred to in the schedule of derby events. One thing for sure, Roller Derby must be taking over the country.
BlogHer Blogger ElaineR.N. has a friend with a daughter who was on a roller derby team and when we looked at her video clip, there was the women skating with one of the teams being from Baltimore. So, if Washington, DC has teams and Baltimore has teams...this thing is up and coming, and probably has been, as Laine says since the early 2000s. I'm just crawling out from under my rock to find out about it.
Ralphie is the boy who says, "All I want is an Official Red
Ryder Carbine-Action Two-Hundred-Shot Range Model Air Rifle!"
Well, everybody these days is organized and roller derby has it's own association, the WFTDA, Women's Flat Track Derby Association. And, flat track, that's the amazing difference for me. I can't imagine roller derby on anything but a track with banked curved sides. I watched roller derby every Saturday with the best of 'em when I was a kid, but it was always on a banked track.
But, BlogHer's Laine Griffin explains that bank tracks are expense and with a flat track, groups can set up in warehouses, place some marking tape on the floor and have a session without the expense of and travel to a banked track. So, make a mental note: banked tracks out and flat tracks in!
Truthfully, I know my derby days are over, but that is not going to prevent me from traveling to New York at some point to see Crazy Eyeris, our own Laine Griffin skate. Or, from going to see the RollerGirls in this area to get a feel for the game the way it is now. I really want to see how the sport has progressed.
And, besides, I need to learn how to behave when I go north to see Laine. Don't want to embarrass her, that's fer sure.
I do know to get a tattoo, wear my fishnet stockings and pink tutu, though.
Whad'ya think I am? STUPID?
SunbonnetSmart.com is authored by a little bird who loves to lure unsuspecting BlogHer bloggers to her web site.
Comments
More Like This
Recent Posts
by SunbonnetSmart.com
Help protect your family from the transmission of harmful bacteria and viruses! Use Lysol's Full Bathroom Range to remove soap scum, lime scale, and everyday dirt and grime to leave your bathroom smelling clean and fresh.
Read more
Most Popular
on NaBloPoMo
Recent Comments
on NaBloPoMo