Skip the Beef and Try Some Vegetarian Burgers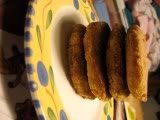 Burgers can be the perfect easy-to-make summer party food, but nowdays many of us who aren't actually vegetarians are realizing that eating more plants and less meat is a good thing. For anyone trying to eat more veggies, here are ten delicious burger options which don't include meat.
At Gluten Free Bay, Isiah calls her Gluten Free Quinoa Cannelini Burgers (pictured above) "gourmet veggie burgers for grownups."
A completely different take on veggie burgers comes from 101 Cookbooks, where Heidi's Ultimate Veggie Burgers use the fried veggie-bean mixture as the bun and then fill them with all kinds of delicious options.
The Recipe Girl makes Portobello Mushroom Burgers, grinding the mushrooms so they resemble meat in order to try to pass them off on her mushroom-adverse son.
Ambrosia and Nectar shares a recipe for Veggie Burgers including almonds that Annemarie says were a big hit at a recent party.
Black Bean Vegan Mini Burgers look delicious at Just Hungry, where Maki cooks them in the oven or in a frying pan.
When Not Quite Nigella does a Vegetarian Burger Blindfold Taste Test, the Lentil and Sweet Potato Burgers were the favorite, but the other three vegetarian burger variations in this post also look fantastic.
More sweet potatoes in the Sweet Potato and Kasha Burgers at Diet, Dessert, and Dogs, where there are always interesting vegetarian recipes.
I'm a huge fan of Tzatziki Sauce, so the Vegetarian Burgers with Tzatziki at Bread and Butter look great to me.
If you're a fan of the spicy chickpea balls called Falafel, you'll love the sounds of Delia's Spiced Chickpea Cakes at Lisa's Kitchen.
Finally, when the Curried Chickpea Burgers at Tinned Tomatoes don't stay together as well as Holler would like, she has the excellent idea of using them inside tortillas for a delicious wrap.
BlogHer Food and Drink Contributing Editor Kalyn Denny also blogs at Kalyn's Kitchen where she's never posted a recipe for burgers but does love to make Grilled Zucchini or Spicy Grilled Eggplant.
COMMENTS
Recent Posts
by Kalyn Denny
Most Popular
We asked our bloggers to craft some recipes from the different Success® Rice flavors and tell us about it. Check out their ideas and you could win a $100 Visa gift card!
Read more
Lean Pockets have no artificial flavors, a good source of protein & have 100% real cheese. Read our bloggers posts where they will tell you their guilt free experiences with Lean Pockets. Plus get a chance to win $100!
Read more