Happy Sunday to you, friends.
I didn't blog much this week. Early in the week I didn't have power. Later in the week I didn't have the time. Now that I have my own consulting business, I don't get paid "sick" or "weather" days. I either work and get paid or I don't work and I don't get paid. Since I was unable to do my job early in the week, I packed in lots of hours later in the week. In addition to the superstorm this week, Dave and I are now three weeks away from our cross-country move to Colorado and Ginny and I are six weeks away from turning in the book manuscript.
I am trying to say that the next several weeks are going to be pretty hectic. I have decided to give myself a bit of a break and plan to blog a wee bit less. I hope to share one or two posts a week and to touch base on the weekend with vegan news from the week. I hope you understand.
Since I won't be sharing as many text- and/or photo-heavy posts in November, considering joining me on Facebook. It's so easy for me to snap a quick photo of a meal and share it. Like this salad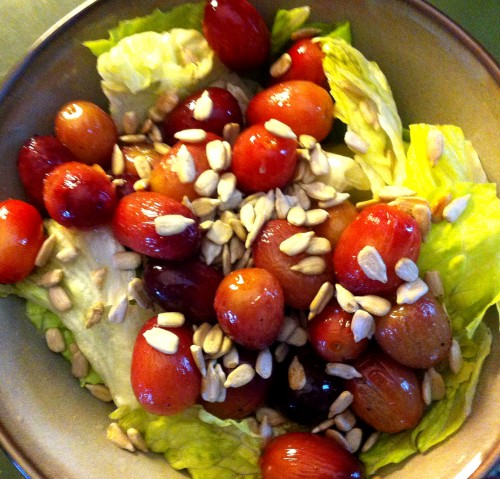 featuring roasted grapes. I also recently shared a photo of boots that I purchased and a conversation ensued about the appropriateness of compassionate clothing that looks like it is made from animals. I would love to have you participate in these conversations – just follow me on Facebook. Of course, I'm still on Twitter, too.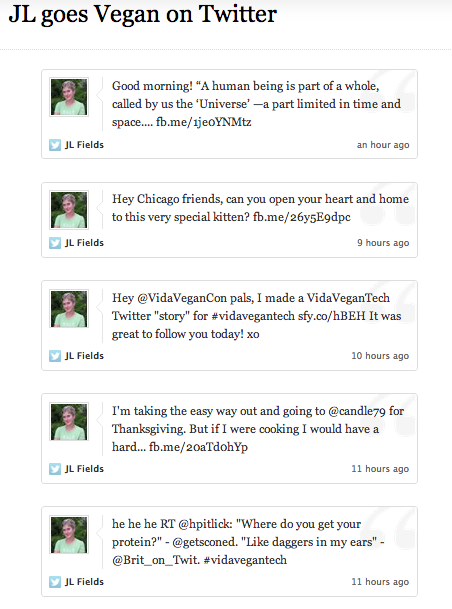 My point is that I'm around, in a variety of places, and I look forward to continuing to talk to you about my vegan journey and your vegan journey here on the blog and elsewhere. Now, after a month of sharing Vegan MoFo posts and KALE recipes on Sundays, I'm back to sharing vegan links and news!