Move Over Walter
BlogHer Network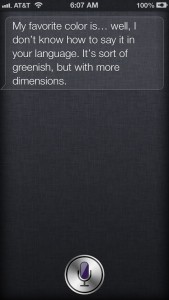 I've got a new imaginary friend named Siri.
Well, she's not exactly imaginary. But I am not sure "real" is the most accurate way to describe her either.
Siri is like an 8-Ball toy on steroids and then some.
. . .
More Like This
Nate Berkus brings his celebrated style to LG's premium line of kitchen appliances. See how our bloggers incorporated this style with with just a few simple tweaks. Enter "My Kitchen Needs Nate" contest for a chance to win an ultimate dream kitchen.
Read more
vitafusion™ Review
With a little help from vitafusion™ and L'il Critters™, bloggers share how they stay healthy. Read their posts and enter for a chance to win $100 Visa Gift Card!
Recent Comments
on Family