My 40-Carrot Parents
BlogHer Network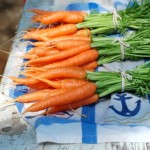 By now, I doubt my parents are surprised by anything I do. I've dragged them along through three (maybe four) different careers, from North Carolina to New York City to Newport and Newtown. . . .
Trending Now
More Like This
Sparkling ICE is a bold flavored sparkling water that truly delivers on taste and contains just the right amount of fizz. Read our bloggers' posts and get more details on how you can enter the Flavor Face Off plus find out more about the delicious flavors that Sparkling ICE has to offer.
Read more
Louisiana Seafood Reviews & Giveaway
With a little help from Louisiana Seafood, bloggers share their favorite Louisiana Seafood recipes. Read their posts and enter for a chance to win $100!