Soccer Mom style: What to wear on the weekend
BlogHer Original Post
I work in an office 40-50 hours a week and have plenty of clothes for work but I am clueless when it comes to casual wear for weekends. I do indeed have one pair of jeans that fit perfectly but have no idea what to wear with them! I will be wearing "casual" clothing during my son's sporting events (basketball, soccer, baseball, etc). Everyone is always telling me that I am "dressed up" all of the time.

Help!

Ginger
My sons played basketball this winter, and I spent a lot of time people watching at the gym. I saw quite a few moms who seemed to be struggling with the same thing Ginger is: they just weren't sure what to wear to a pee wee basketball game. Unlike Ginger, though, who is dressing up for everything, most of the moms I encountered were barely dressed, in baggy over-sized sweats. It's always better to err on the side of looking nice rather than looking like you've just rolled out of bed, but I am sympathetic to Ginger's desire to look appropriately casual for her son's sporting events.
It doesn't take much to get that look; Ginger can start by investing in some basic casual pieces. She wants to look for things that are easy to care for and comfortable. She also wants to be sure that EVERYTHING fits properly -- casual pieces should be held to the same standards as work clothes. You wouldn't wear too big or too small pieces to the office; don't wear them on the weekend, either. She should also remember that it is okay to have clothes that are NOT for the office; her son wouldn't wear his soccer uniform to school, say, or to church -- Ginger also wants to have a separate pool of clothes for the soccer field, things that she would not wear to a client meeting.
Tees
A great tee shirt, one that fits correctly, is a weekend staple. When you try tees on, be certain that the shoulder seams hit AT your shoulder (not half way down your arm), that the hem is long enough to cover your waistband when you sit down, and that the body isn't tenting out around you. Crew necks are always easy, but look also for tees with a V or square neck. A great boatneck tee is also a nice way to go casual without looking sloppy.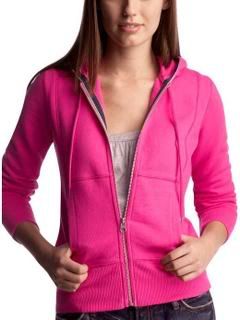 Gap Clean zip-up hoodie, $39.50
Light-weight sweaters
A simple hoodie or cardigan or pullover sweater is easy to layer for outdoor activities; wear over a tee or tank. Ginger should stick with sweaters that are hand or machine washable, since kids sporting events don't always take place in the cleanest locations. Cotton and cashmere can both be washed at home; both make good layering pieces for those windy spring baseball games. As with tees, she can look for interesting detailing on the sweaters -- three quarter sleeves, for example, which can be worn over a long sleeved tee for a cool layered look -- and cheerful colors.
Yoga pants
Yes, you read that right: Ginger needs to get herself a pair of yoga pants, because inevitably, some Saturday, her son will have an 8:00 am basketball or soccer or baseball game and it will be all she can do to get everyone fed and dressed and out the door in time. The important thing here, though, is that she wants a pair of yoga pants that FIT PROPERLY, particularly through the backside. She wants to look for a fairly substantial fabric, because thiner fabrics will cling; she wants something with some stretch, too, because it will smooth out the parts of her that may not be so smooth. She can pair her yoga pants with a hoodie or a tee and a sweater. I usually top mine off with a baseball cap, for those 8:00 am games. At that hour, honestly, you do what you have to do.
Cute casual shoes
Ginger needs some great casual shoes, either a pair of athletic-inspired flats (not actual athletic shoes -- she won't be PLAYING a sport in these, after all) or perhaps some driving mocs. Puma and Rocket Dog both make great sporty flats; wear them with jeans or yoga pants. Driving mocs are a nice alternative with jeans and shorts.
Simple jacket
I don't know where Ginger lives, but in my part of the country, baseball season means winds and temperatures that can veer from positively summery to shockingly arctic in a matter of innings. Having a lightweight jacket -- one that can withstand wind and rain and cold -- is a must for sporty weekends. Choose a tailored cut, but NOT something that you would wear to the office; keep your trench coat for weekdays. Eddie Bauer has a terrific selection of casual spring outerwear; I am partial to the Lightweight Premium Down Jacket, which is both chic and casual (and warm, but without being bulky).
Need more ideas? Marie Claire has a nifty slide show of weekend wardrobe options.
StyleShaker shows you how celebrities do weekend casual (and how you can get their looks).
And MissEm dishes on what to wear for a weekend in Portland. I think she's been peeking in my closet, because that's pretty much my uniform she is showing there.
Susan Wagner writes about fashion at Friday Style and The Working Closet and Fashion Find. Send her your style questions at fridaystyle.susan@gmail.com.
Comments
More Like This
Recent Posts
by Susan Wagner
Our bloggers use the new ARM & HAMMER™ Truly Radiant™ Collection for a radiant smile. Read their posts where they share a few of their real-life experiences and advice on how to feel radiant day-in and day-out. Plus get a chance to win a $100!
Read more
Recent Comments
on Fashion