Soup in the Crockpot When You Get Home From Work is a Beautiful Thing
BlogHer Original Post
So maybe you're one of those busy people who hasn't fully embraced the idea of crockpot cooking? Maybe you need just a little more information to convince you to use a crockpot. How's this for encouragement: Dinner. Is. Ready. When. You. Get. Home. From. Work. What could be better!
If you're new to crockpot cooking, you may want to start by reading my earlier post about What I've Learned About Cooking in a Crock-pot Slow Cooker. Understanding how the slow cooker works compared to other cooking methods will pay off in better results, but truly, slow cookers are pretty much foolproof. If you don't have a crockpot and aren't sure you'll like this kind of cooking, consider buying one at a thrift store and trying it out before you invest in a new one.
Soup is the perfect thing to make in a crockpot because long, slow cooking releases liquid and also coaxes flavor out of basic ingredients. Here are ten delicious soup recipes that I'd love to come home to after a long day at work.
Kimberly at The Nourishing Gourmet says she made her Crockpot Chicken and Red Quinoa Soup every Sunday for weeks, it was that good.
Always delicious Classic French Onion Soup comes from the crockpot of Jenn at Baking Buddies.
Pam from Sidewalk Shoes simmers her Slow Cooker Thai Chicken Soup for ten hours while she was at school all day, which is one of the reasons she loves her slow cooker.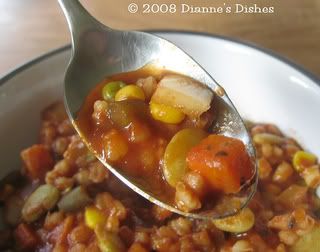 I like the addtion of barley in the
Easy Slow Cooker Vegetable Soup
from Dianne's Dishes (pictured above.)
Simple, but delicious sounding Crockpot Split Pea Soup can be found at The Crepes of Wrath, and I'd like to be eating that one right now.
In the recipe for Slow Cooker White Bean Chili, Katerina spells out what can be done the night before and what you need to do in the morning before work.
You can use canned black beans and canned vegetable broth in the
Slow Cooker Black Bean and Veggie Soup
from Ahaar (pictured above.)
Stephanie used the world "elegant" to describe Restaurant Quality Crockpot Tomato Soup from A Year of Crockpotting. There are also plenty more soup recipes here that sound good.
Linda at Delusions of Chefery recommends an immersion blender to puree her Slow Cooker Butternut Squash Soup.
Finally, I make lots of soups in the crockpot, but my personal favorite would have to be my version of
Black Bean and Rice Soup with Lime and Cilantro
(pictured above.)
Kalyn Denny writes about food and at BlogHer.com and shares her passion for cooking at Kalyn's Kitchen. Kalyn is a fanatic about making soup, and loves to find new soup recipes!
More Like This
Recent Posts
by Kalyn Denny
Nate Berkus brings his celebrated style to LG's premium line of kitchen appliances. See how our bloggers incorporated this style with with just a few simple tweaks. Enter "My Kitchen Needs Nate" contest for a chance to win an ultimate dream kitchen.
Read more
Dixie Ultra Moments® Reviews
Celebrate Life's Special Moments with Dixie Ultra Moments®. They're strong enough to hold up to any gathering or party. Go ahead. Celebrate with style and strength!