Vegan Black Bean Soup with Cilantro & Green Tabasco from Kalyn's Kitchen
BlogHer Original Post
The first time I made this Spicy Vegan Black Bean Soup with Cilantro and Green Tabasco, it wasn't vegan at all. But as we were eating the soup, my nephew Jake and I kept remarking on how we thought the soup would have been better without the ham, which kind of took over the spicy flavor we both loved. I didn't need any more encouragement to make this again as a vegan soup, perfect for Meatless Monday on my own blog. With all the flavors like garlic, cumin, oregano, cilantro, and green Tabasco sauce, I think this is the best black bean soup I've ever made, high praise from someone who loves black beans like I do.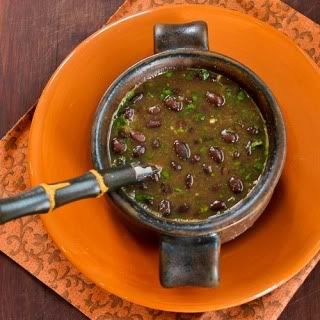 Photo of Spicy Vegan Black Bean Soup with Cilantro and Green Tabasco
from Kalyn's Kitchen
Get the recipe for Spicy Vegan Black Bean Soup with Cilantro and Green Tabasco from Kalyn's Kitchen.
Have you made something interesting for Meatless Monday this week? If so please share the recipe link or your recipe in the comments. You can find more Meatless Monday recipes by clicking the tag Meatless Mondays.
BlogHer Contributing Editor Kalyn Denny also blogs at Kalyn's Kitchen where she's committed to low-glycemic cooking, and at Slow Cooker From Scratch, where she features "from scratch" slow cooker recipes. Kalyn probably won't ever be a vegetarian, but she does love to make meatless dishes like this one.
[
BlogHer Food '12 will bring food bloggers together to learn, share, inspire, and of course, to EAT! Whether you're new to food blogging or an old pro, you should join us in Seattle, WA on June 8-9, 2012 -- register now!]
Comments
More Like This
Recent Posts
by Kalyn Denny
Help protect your family from the transmission of harmful bacteria and viruses! Use Lysol's Full Bathroom Range to remove soap scum, lime scale, and everyday dirt and grime to leave your bathroom smelling clean and fresh.
Read more
FoodSaver® Reviews & Giveaways
Save time, money and space with the FoodSaver® Vacuum Sealing System! Air is the enemy of freshness and FoodSaver® vacuum sealers remove and lock out air and moisture. It keeps food fresh up to 5x longer! Read our bloggers' posts and know more about FoodSaver® plus get a chance to win $100!