Squash Kale Pizza from The Way the Cookie Crumbles
BlogHer Original Post
For anyone who may have dared to think that meatless pizza might be a tiny bit boring, may I offer this amazing-sounding Squash Kale Pizza from Bridget at The Way the Cookie Crumbles as this week's offering for Meatless Monday. I admit that since I've discovered how much I like kale I've become a bit kale-obsessed, and I think the idea of using it on a pizza is pure brilliance. Another thing about making pizza at home is that if you have family members who like different things, you can make half-and-half pizzas to please every taste. Of course if you have kids, that might be plain cheese on one side, but that just means more Squash Kale Pizza for the adults.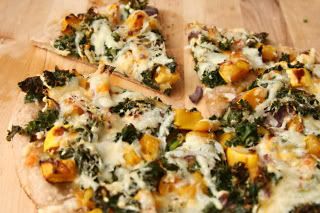 Photo of Squash Kale Pizza from The Way the Cookie Crumbles
Get the recipe for Squash Kale Pizza from The Way the Cookie Crumbles.
Have you made something interesting for Meatless Monday this week? If so please share the recipe link or your recipe in the comments. You can find more Meatless Monday recipes by clicking the tag Meatless Mondays.
BlogHer Contributing Editor Kalyn Denny also blogs at Kalyn's Kitchen, where she specializes in low-glycemic recipes using fresh ingredients. Kalyn probably won't ever be a vegetarian, but she does love to make meatless dishes such as Vegetarian Lasagna with Kale and Mushroom-Tomato Sauce.
Related Posts
Recent Posts
by Kalyn Denny
Del Monte Fruit Burst Squeezers are healthy snacks you can offer your children after a long day at school. 17 moms offer their best back to school snacking and lunch tips. Find some great ideas and get a chance to win a $100 VISA Gift Card on each blog.
Read more
Dixie Ultra Moments® Reviews
Celebrate Life's Special Moments with Dixie Ultra Moments®. They're strong enough to hold up to any gathering or party. Go ahead. Celebrate with style and strength!