Stolen Innocence - Steven Truscott
By
JenB
on September 02, 2007
BlogHer Original Post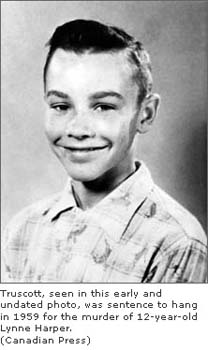 Since all things Canadian are my blogher "beat", I am writing my post this week about Steven Truscott. If you have missed this story, Steven Truscott was sentenced to be hanged at age 14 in 1959 for a murder of a young classmate. He was innocent. Paroled in 1969, he disappeared, made a new life, had a family, some children and a decent job.
This is sort of a difficult post for me to write. I think of how innocent and unaware of such things at 14 years old. I cried when I first heard about this story, and as I write, tears come to my eyes again. Fourteen years old, sentenced to death, a record for the youngest death-row inmate.
Steven Truscott was sentenced to hand in 1959, at the age of 14. He was convicted of killing his 14 year old school mate Lynne Harper. After being on death row for four months, his sentence was commuted to life in prison. He was granted parole in 1969 after 2 appeals. The new evidence that overturned the conviction on August 18th, was forensic evidence.
The court heard new evidence last summer that focused on the time of Harper's death based largely on the contents of the girl's stomach after she died.

During the original trial, Dr. John Penistan, the pathologist who conducted the autopsy on Harper's remains, testified she likely died between 7:15 p.m. and 7:45 p.m. on June 9, 1959.
Truscott had admitted to being with Harper during much of that period.

New evidence presented to the Ontario Court of Appeal panel last summer involved a report written from notes taken during the autopsy that estimated the time of death much later than the half-hour time frame Penistan gave in court.

The report estimated Harper was killed at about 12:45 a.m. on June 10, several hours after she accepted a ride on the handlebar of Truscott's bicycle.

In Tuesday's ruling, the court said the fresh evidence relating to the time of death "could reasonably be expected to have caused the jury to at least have a reasonable doubt that Harper died before 8 p.m."
Truscott has said it was too early to even think about compensation. He claimed that the most important thing for him was "What we've known for years and years and years, now other people will know". Truscott's lawyer said "Steve should get every penny he can out of the government after what he's been through. I'm glad Ontario's attorney general has acknowledged that he should be compensated, as he has today". In 1999, the Saskatchewan government awarded Milgaard $10 million for his wrongful conviction.
It was this controversial case that was integral in Canada abolishing the death sentence in 1976 (the same year it was restored in the United States) , even though 1962 was the last time it was implemented. Canadians are quite passionate about the death penalty. A poll taken in 1995 discovered that 69% moderately or strongly favoured the return of the death penalty. In 1996, a similar poll of 1500 Canadians, not one person listed the death penalty as a priority. Most Canadians know about David Milgaard, Guy Paul Morin and Donald Marshall, who were convicted of murders they did not commit. Despite abolishing the death penalty, the homicide rate in Canada did not increase after abolition.
David Milgaard was finally released in 1997, by DNA evidence. Previous to the Truscott case, it was certainly the one that Canadians were most familiar with. His case has been the subject of 2 television movies and The Tragically Hip, wrote and recorded the song "Wheat Kings" (I am listening to it right now) on their album Fully Completely which refers to David Milgaard. In 2000, band Blue Rodeo (also Canadian) recorded a song about the case, "Truscott", on their 2000 album The Days in Between. I suppose that because such cases are rare, we as a country are fascinated with them.
Sources and More Information:
Amnesty International
CBC background information
intellectualconservative.com
cbc.ca - Reaction to Verdict
cbc.ca - more about the decision
Wikipedia -Steven_Truscott
Wikipedia - David Milgaard
Newsbatch.com
www.jenandtonic.ca
contributing editor, World blogs :: Canada
ADD A COMMENT
Most Popular
We asked our bloggers to craft some recipes from the different Success® Rice flavors and tell us about it. Check out their ideas and you could win a $100 Visa gift card!
Read more
Lean Pockets have no artificial flavors, a good source of protein & have 100% real cheese. Read our bloggers posts where they will tell you their guilt free experiences with Lean Pockets. Plus get a chance to win $100!
Read more