Stories of Olympic Proportions
I have been searching for some inspiration the past several days, and a
friend of mind so astutely reminded me to turn to the 2008 Olympics in
Beijing. Duh! I've actually been keeping up with a good bit of the games this time, and rather than
the Olympic feats themselves, what I've found to be the most
fascinating are the human interest stories behind some of the
participants. The drama, the love triangles, the betrayal, the humor,
the ironies, the tales of triumph over tragedy... Here is just a
sampling of what I mean:
Georgia vs. Russia, on the battlefield and in the sand

.
The countries are newly at war, and face each other in the games today
for women's beach volleyball. Well, kind of, but not really. Georgia
apparently lacks the beaches to cultivate their own athletes in this
sport, so they had to import their players from Brazil and stamp them
with Georgian names and nationalities so they'd be within regulations
to play, but, whatever. Let's just hope the athletes keep it civil.
Michael Phelps's Olympic eating feats

. The U.S. Swim Team's golden boy is so accomplished he published his autobiography three years ago at

age 19

, fools. (Take

that

,
Oprah.) And according to his book, he's showing everyone how to eat
their hearts out: His breakfast includes 3 sandwiches of fried eggs,
lettuce, tomato, cheese, fried onions, and mayo; one omelete; a bowl of
grits; and 3 slices of french toast with powdered sugar, washed down
with 3 chocolate chip pancakes. Pass the Pepto, please.
Samantha Peszek takes off her pants... and puts them back on

.
I about bit all my nails off Sunday while watching our girls in the
qualifying rounds of women's gymnastics. Stepping out of bounds in the
floor routines, falling off the bars, landing atrocious dismounts...
Teammate Samantha Peszek's last-minute injury really shook up the rest
of the gang. The injury was so fresh even her mom didn't know what was
up as from the stands she watched her daughter - gasp! - put her
warm-up pants back on right before the floor performances began. The
best part was the commentators voicing everyone's confusion: "Wait,
what's this? She put her pants back on!" Girlfriend should never have
taken them off in the first place. Keep your pants on, Sam!

Poor, poor Manaudou

. My heart breaks for France's sweetheart of swimming

,

Laure Manaudou

,

who
is so devastated to have placed seventh in the 100-meter backstroke and
eighth (aka, last place) in the 400-meter freestyle that she's
considering dropping out of the competition.

A far cry from her performance in Athens four years ago, which found her taking home gold and silver

for her country.

As a woman who's no stranger to heartbreak, though, I know the real deal behind her loss of heart

for the game. Hel-

lo

, she's swimming against her ex-boyfriend's girlfriend, Federica
Pellegrini, who also, it just so happens, broke Manaudou's world record
last night in the 200-meter freestyle. Heck, I give Manaudou props for
even

entering

the Olympics this year, considering that last year nude photos of her appeared on the internet

(her ex, Italian swimmer Luca Marin, is rumored to have been the culprit).

If nothing else, give the girl a medal for keeping her game face under such humiliating circumstances.
Lopez Lomong: You go, Lost Boy! I
saved my favorite and most inspiring story for last. Chosen as the U.S.
flag bearer during the Opening Ceremony's Parade of Nations, the
Sudan-born, 23-year-old 1500-meter runner has already triumphed over
the most devastating of obstacles. At age 6, he was torn away from his
family (during an 8am church service, no less), blindfolded and carted
away in a canvas-covered truck by Sudanese militiamen seeking to turn
children into boy soldiers. Eventually he and three other boys escaped
and they walked for several days before reaching a Kenyan refugee camp,
where he lived for 10 years before coming to America as one of Sudan's
"Lost Boys." Track star status at Northern Arizona University followed;
then came American citizenship, and, a year later, qualification for
the U.S. Olympic team.

His presence in China at the games is flavored with the bitter irony of

China
and Sudan's mutually beneficial economic relationship, a tie that has
many protesting the Asian country's worthiness of hosting this year's
games. When asked how he feels about China, Lomong diplomatically
states, "I hope to inspire a Chinese kid out there." He's also using
his Olympic status to spread the word, via his website,

about the current atrocities taking place in Darfur. Whether he wins a medal Friday or not, he's already a hero in my book.
And
now, I leave you with a glimpse of our dear President's support of
America's Olympic medal hopefuls. Note his admirable willingness to
take time out of his busy schedule to give them a pat on the, uh, back: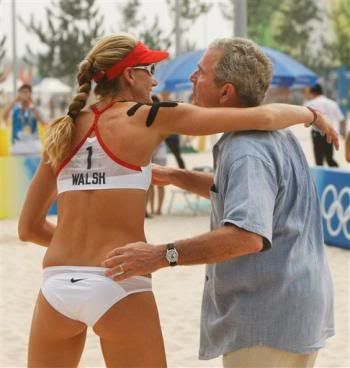 Gross.
Recent Posts
by amplifier
We asked our bloggers to craft some recipes from the different Success® Rice flavors and tell us about it. Check out their ideas and you could win a $100 Visa gift card!
Read more
Lean Pockets have no artificial flavors, a good source of protein & have 100% real cheese. Read our bloggers posts where they will tell you their guilt free experiences with Lean Pockets. Plus get a chance to win $100!
Read more