Stovetop Soy Curl and Sweet Potato Alfredo Casserole
One of the first things I did after moving was place an order with Vegan Essentials. I needed soy curls. Bad.
I love soy curls.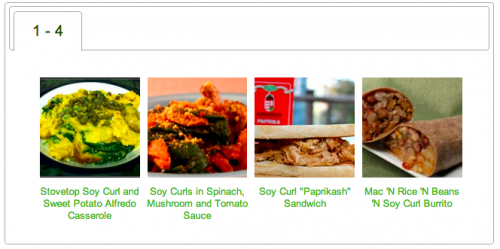 They are easy and fun to prepare and they make for a really hearty meal.
Last night I realized that I had not yet used any of my soy curls, stored in the freezer, and it was time! I grabbed a sweet potato, garlic and onion and placed them on a cutting board. I looked in the refrigerator and spied baby spinach and mushrooms, which I added to the countertop. Then in the corner of the top shelf of the refrigerator I noticed half a jar of vegan Alfredo sauce (purchased at Nooch). Hmm. I also grabbed a jar of capers right next to it. Then this happened.
Stovetop Soy Curl and Sweet Potato Alfredo Casserole
by JL Fields @ JL goes Vegan
JL Fields, a vegan lifestyle coach, writes the blog JL goes Vegan and writes/edits the community blog Stop Chasing Skinny.
Trending Now
More Like This
Recent Posts
by JL Fields
We Talked About Menopause & How Replense can Help. Replens™ is the clinically tested, doctor recommended brand of long-lasting v
Read more
Green & Black's Organic Chocolate Reviews & Sweepstakes
We placed Green & Black's Organic Chocolate to the test! Check out these delicious chocolate recipes and recreate them using exceptional, fairtrade ingredients. Plus get a chance to win $100 cash equivalent and a chocolate prize pack.