A Straight Man's Guide to Surviving Beach Blanket Babylon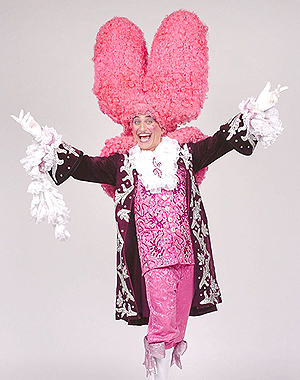 You're a straight man, meaning basically nothing sounds better to you than spending ninety minutes of your precious life watching a show featuring wigs large enough to house several species of endangered animals, a buffet of show tunes belted out by big boned gals awash in glitter, and topical humor ripped straight from the pages of today's trashiest tabloids. Yeah, and Barney the gay, purple dinosaur had just been named the official mascot of the winter Olympic games, until he was mercilessly attacked by a gaggle of flying pigs while leaving his hotel room. More at eleven.

Yet, I'm sure it comes as no surprise, that at a recent tourist in my own town viewing of Beach Blanket Babylon, I was surrounded by couples. And Gasp! Many of them were were heterosexual. Which leads me to believe at least one member of those duos was there for reasons more dubious than a burning love of the theater. While the scene reads a little like a Rottweiler being walked down the avenue dressed as a pink ballerina, I commend the sacrifice these gentleman are willing to make for love. I get it. They hand their balls over to that special lady at their side, and hope she's down for a game of catch later in the night.

Well guys, loosen up the choke chain; I'm here to help. If you've been clipped by cruel cupid's bow, and have now found yourself setting up a beach blanket on the dangerously metrosexual edges of your masculinity, I suggest you thank your wife or girlfriend for the tickets she just purchased, and swallow some sweet suggestions to temper this bitter pill.

Tip #1; Bring a flask.

Club Fugazi (mistakenly) only serves beer and wine, which you can purchase yourself after standing in a long bar line, or have served to you by what Yelpers have deemed the worlds' slowest waitresses. Amp up the speed with which you consume alcohol, the comedy value of this show, and the likelihood that you'll be road-side, counting back-wards from ten, by imbibing from your own secret stash. Just think, spending the night in jail sleeping it off with some dodgy SF characters might enhance the overall merit of the evening's entertainment as well.

Tip #2; Just pretend you're watching SNL. It's pretty much the same thing.

True, the unarguably talented vocalists in BBB could out sing just about any of SNL's musical guests. But when you match up the superior joke writing of the SNL crew with the well developed lungs of the BBB cast, the two are nose to nose in the photo finish. The equally sophomoric blend of beaten down political jokes, half baked celebrity impersonation, and cross dressed men will feel more familiar to you if you imagine it in the SNL context, if the host were say; Oprah. Wrap your mind around that, smoke one to your head, and get ready. Live from; oh wait. Where are we again?

Tip #3; If you can't beat em, join em.

If you want to really embrace SF culture, there's more to it than a tired musical where emasculated pop icons are out shown by their headdresses. Let's face it, this dinosaur needs to become extinct. Barney is out of the closet and has a thriving drag show in the Castro, and nobody except maybe your blue haired Aunt Mary from one of those red states cares if Snow White finds her true love anymore. Shoot, it takes a head-mistress, not a hat, to get properly emasculated here honey. So my advice is this; if you're gonna be a dog on a short leash, why not make an evening of it. Let's face it, after a date night like this, your lady owes you one. Not to mention, San Francisco is full of shops where you can get an appropriate collar for such an occasion. Hmph! And they say you can't teach an old dog new tricks.
Related Posts
More Like This
Recent Posts
by seahagconfidential
Our bloggers include LISTERINE Antiseptic in their regular oral health routine. See why and get a chance to win $100.
Read more
Most Popular
on Arts & Culture
Recent Comments
on Arts & Culture