Stud Finder
I hadn't really been out all week, so I was looking foward to making a splash with my Friday-night- dinner-and-drinks outfit last night. I decided on a relatively simple, monochromatic look: high waisted skinnies, black blazer with sculpted shoulders and my go-to grey scarf. I decided that since I was down playing colors, I would sass up my outfit with a bold accessory. Taking a cue from New York Fashion Week's native-american inspired jewelry collections, I chose a pair of large hoop earrings with beaded fringe. PS they were $4.80 from F21. Oh yah. This was however, a slight departure for me, since I typically wear my diamond studs everywhere, with everything. But as you can see below, I was feelin' it!
Not three minutes into my drive downtown, I noticed a strange pulling feeling at my ears, then a slight throbbing sensation began to emerge. As I focused more and more on the isolated annoyance coming from both ear lobes, the more uncomfortable it became. With a swift flicking motion, both earrings were off and tossed angrily onto the passenger side seat, seeing the light of day for but a brief twelve minutes. It was a bittersweet moment as the annoying throbbing feeling immediately went away but the realization of my fashion faux-pas set in: I had NO earrings to complete my outfit, no punch of color or texture which characteristically marks my style. I was effectively stylishly boring....gasp!
The moral of this story isn't to avoid taking fashion risks for the sake of being fashionably idle, but it DOES point to the importance of picking your accessorizing statements carefully! Choose wisely when investing in unfamiliar fashion territory. Ask yourself, will you be physically comfortable wearing this? Is there a better option that achieves the same look? And finally- a lesson that I could certainly benefit from- just because it's $4.80, doesn't necessarily mean it's worth buying.
For this post, I've chosen to showcase some fashionable and functional jewelry:
First, these adorably quirky Turtle studs, $38 from JCrew
Also from JCrew, these Sparrow studs, $25, which give a little pop of color, without weighing down your ear lobes:
Finally, a necklace which uses ribbon or rope instead of a metal chain and flowers and adornments made from yarn or pieces of leather, like Marni has done so well for years: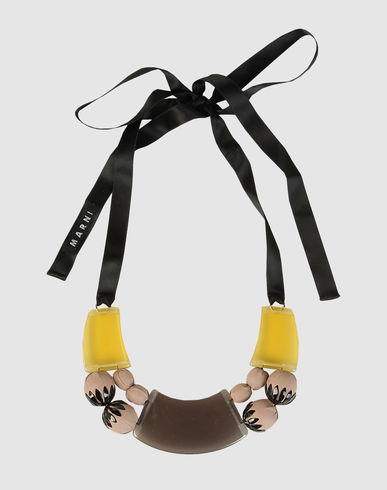 Happy and healthy stud finding,
xoxo, wews
ADD A COMMENT
Recent Posts
by sarahfish26
We asked our bloggers to craft some recipes from the different Success® Rice flavors and tell us about it. Check out their ideas and you could win a $100 Visa gift card!
Read more
Lean Pockets have no artificial flavors, a good source of protein & have 100% real cheese. Read our bloggers posts where they will tell you their guilt free experiences with Lean Pockets. Plus get a chance to win $100!
Read more